This old map of Pittsfield, Massachusetts was published in 1876 by H.H. Bailey and J.C. Hazen. Bailey and Hazen were two of the most prolific map publishers of the 19th century, and they spent a majority of their lives creating beautiful hand drawn maps of American towns.
The map shows a bird's eye view of Pittsfield, MA as it looked at the end of the 19th century. Notable landmarks on the map include Berkshire Atheneum, Academy of Music, Burbank Hotel, Berkshire House and Silver Lake.
In 1872 a writer for the Springfield Republican reporting on the dedication of Pittsfield's Soldier's Monument wrote this description of the town:
"Pittsfield is no longer the quiet, dullish, somewhat dingy village that some of us remember it, standing with Yankee reserve in the midst of fine scenery, where it seemed a little out of place.

It has become of late years a bustling, ambitious, architectural town, almost a city and quite ready for the title, with fine public buildings that do not shrink behind trees for fear of being seen, lawns and parks, and gardens and fountains, and an abundance of 'carriage people', and stately horses parading the streets and avenues.

Everywhere 'improvements' are going up; there are public works of various kinds; the streets and squares look less like a New England village than the fast-growing cities of the West".
Click here to see Pittsfield, Massachusetts in 1876.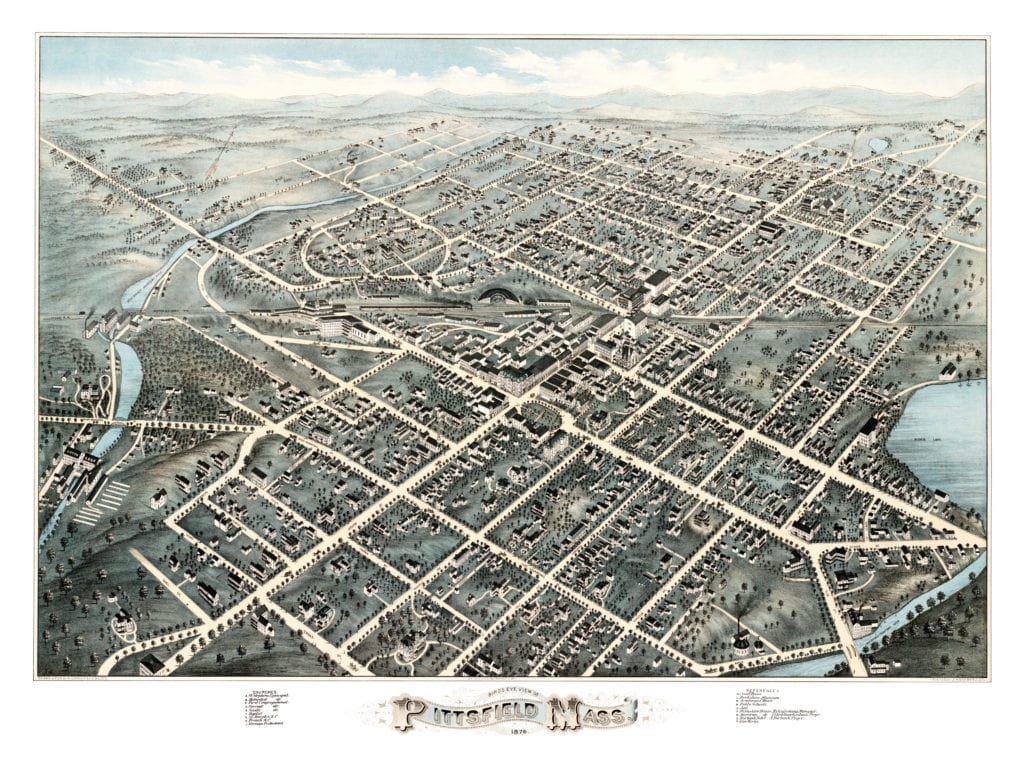 This old map of Pittsfield, MA has been lovingly restored by the team at KNOWOL. Reproductions of the restored map are available on museum quality, archival paper to ensure that this piece of Pittsfield history can be passed on to the next generation. Click here to get a copy of the map.