Killenworth is a mansion in Glen Cove, New York. It sits on the crest of a hill on Long Island's North Shore, providing a panoramic view across the Long Island Sound to the shore of Connecticut and beyond.
The mansion was built in 1912 and served as the home of George D. Pratt, son of Standard Oil magnate Charles Pratt. The Soviet Union purchased the mansion in 1951. It is now home to the Russian Delegation to the United Nations.
The pictures of Killenworth Mansion seen below were taken in 1918 by photographer Frances Benjamin Johnston. The original photographs are held by the Library of Congress.
Front of Killenworth Mansion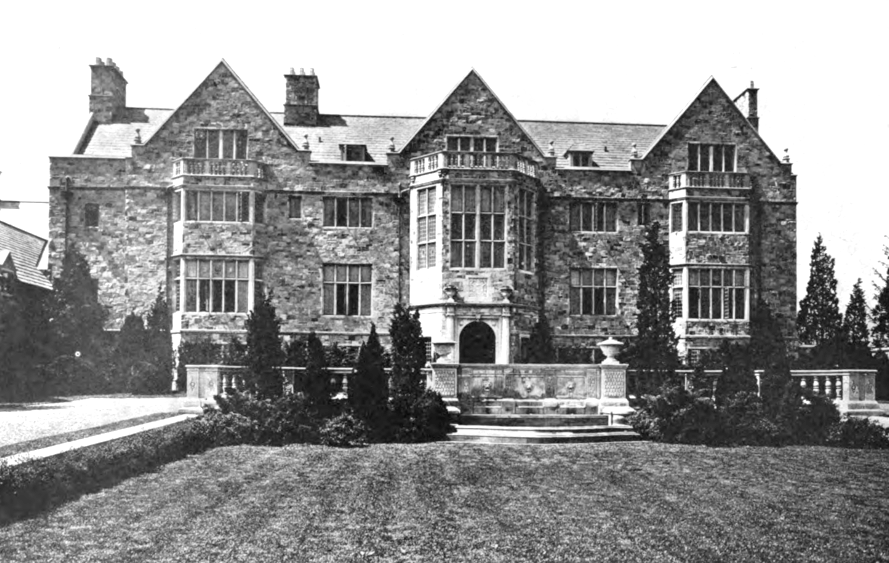 When George Pratt decided to build Killenworth, he invited his architects to stay on the plot of land for a summer so that they could become familiar with the land. This gave the architects the invaluable opportunity of studying and understanding the areas advantages and limitations.
View to House from Swimming Pool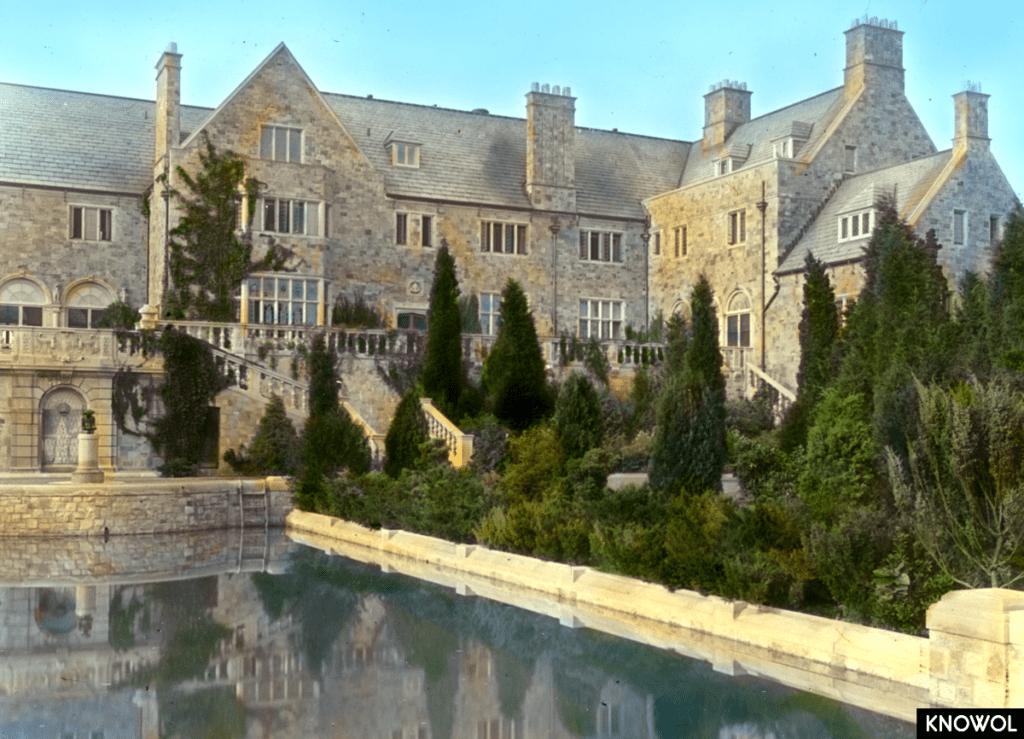 The stone used in the construction of the house is a seamfaced granite brought from Massachusetts. It is a warm grey color with a delightful texture rarely found in this kind of stone. The roof is a dull green slate laid in graduated courses and is thicker near the eaves and gutters. The home originally had 49 rooms.
View to Tea House From Swimming Pool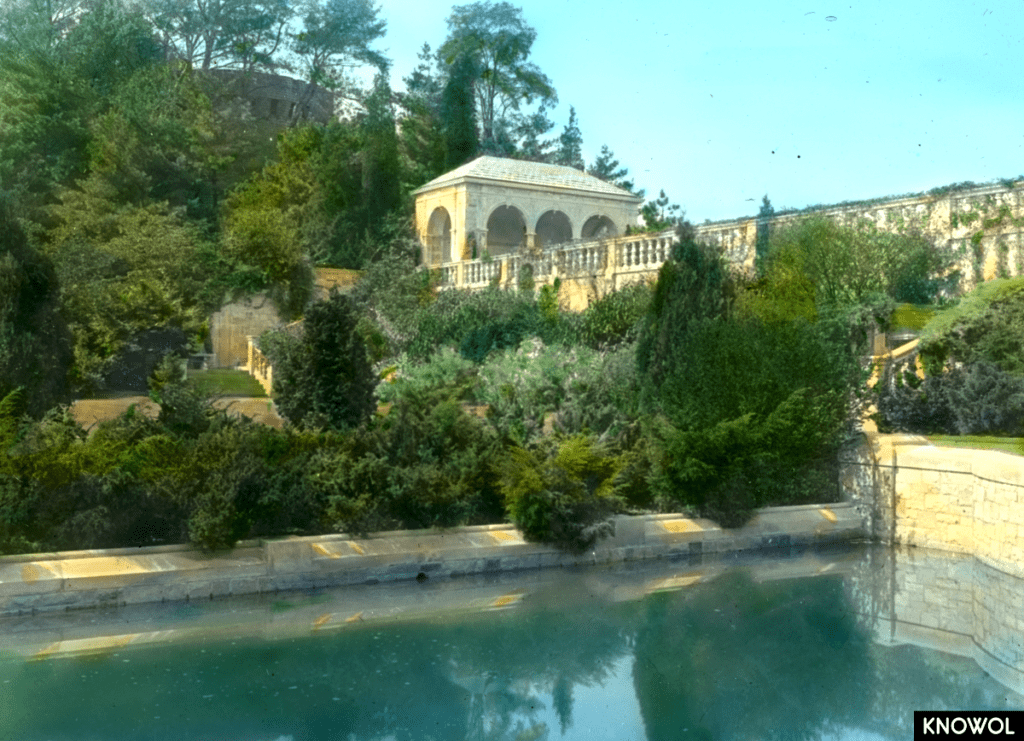 The 36 acre grounds were landscaped by the Olmstead Brothers, the sons of Frederick Law Olmstead, the man who designed Central Park. Immediately upon its completion, Killingworth was considered one of the finest houses ever built in America.
Swimming Pool in 1915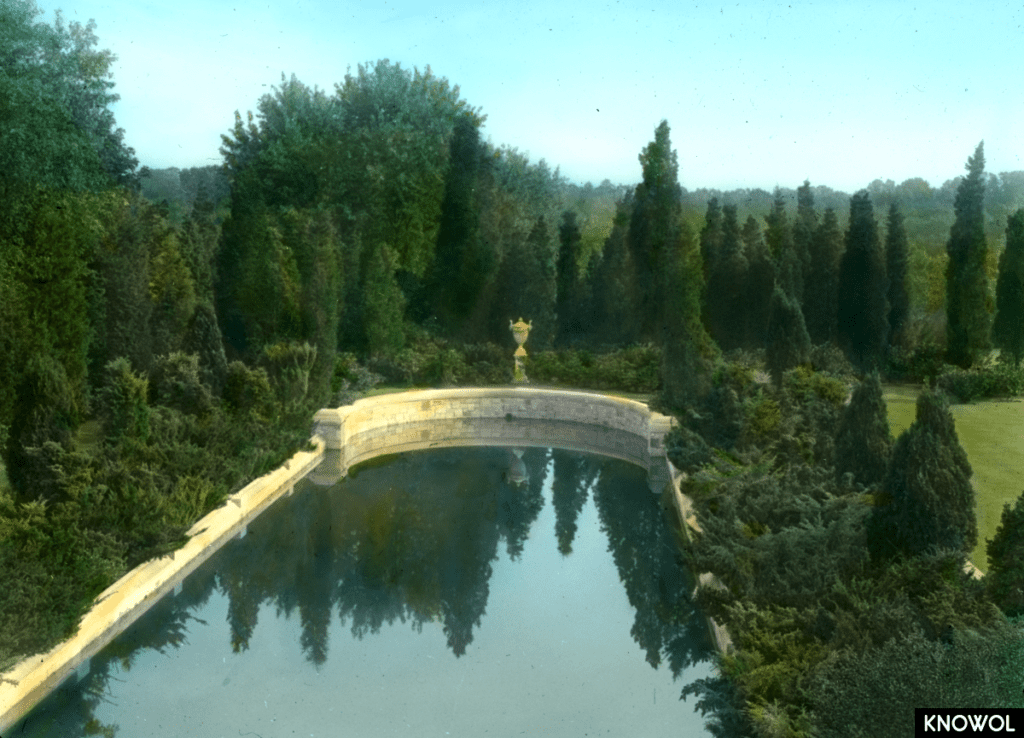 Killenworth was among the earliest houses in which the design and placement of the swimming pool was an integral part of the overall design. The gardens were landscaped to create a beautiful reflection in the pool for anyone looking down from the terrace.
Swimming Pool in 1918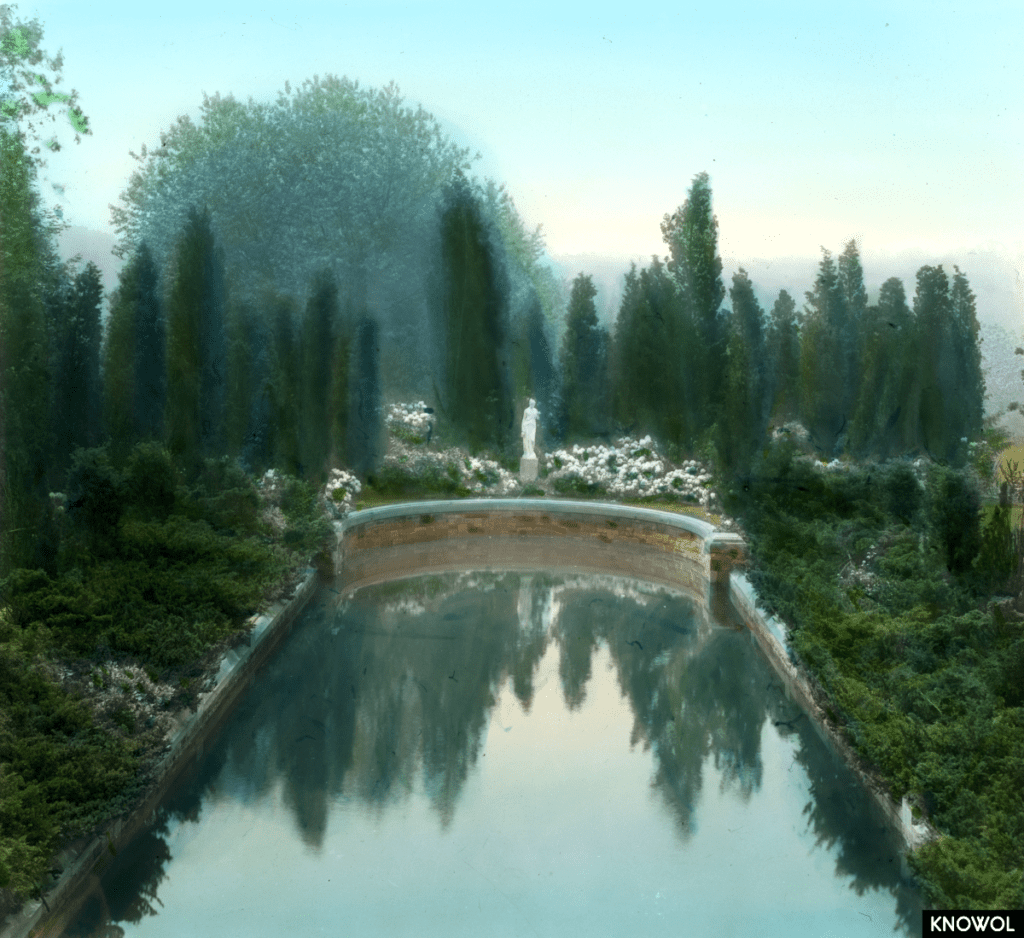 The pool looked slightly different in 1918, with a new statue and flowers decorating the edges.
Leading to the Terrace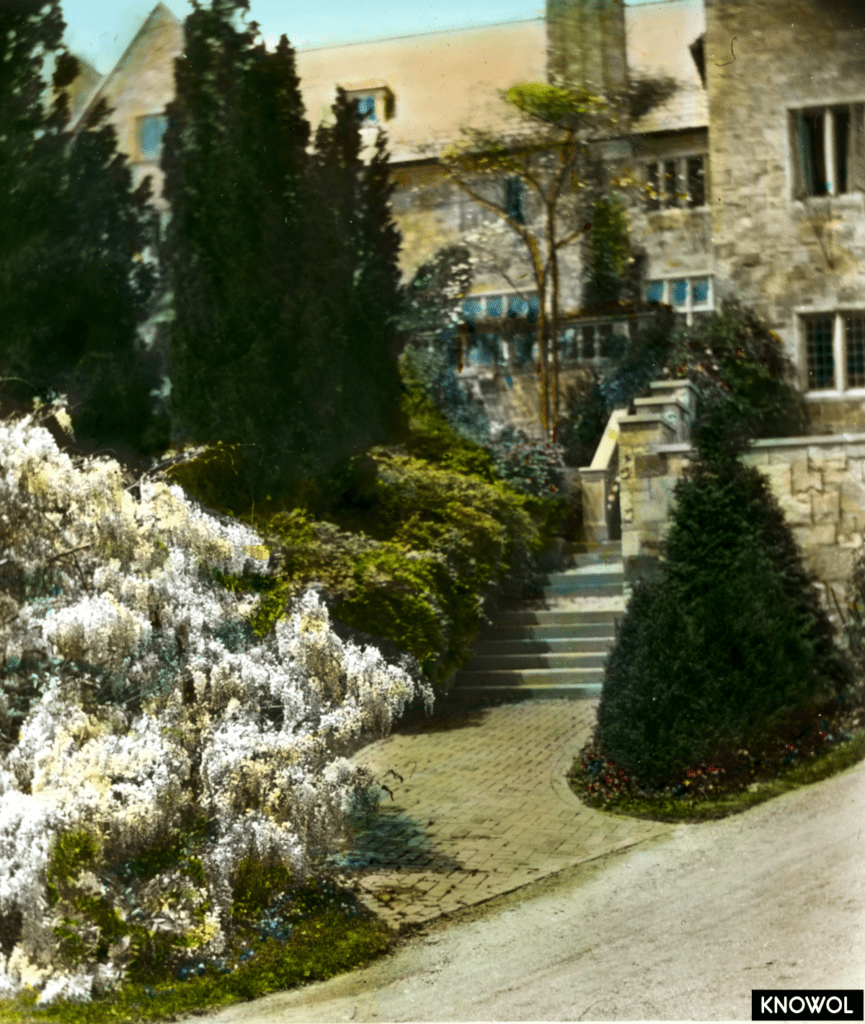 The landscaping at Killenworth was designed by the landscape architect, James L. Greenleaf, and was meant to complement the architecture.
Terrace Steps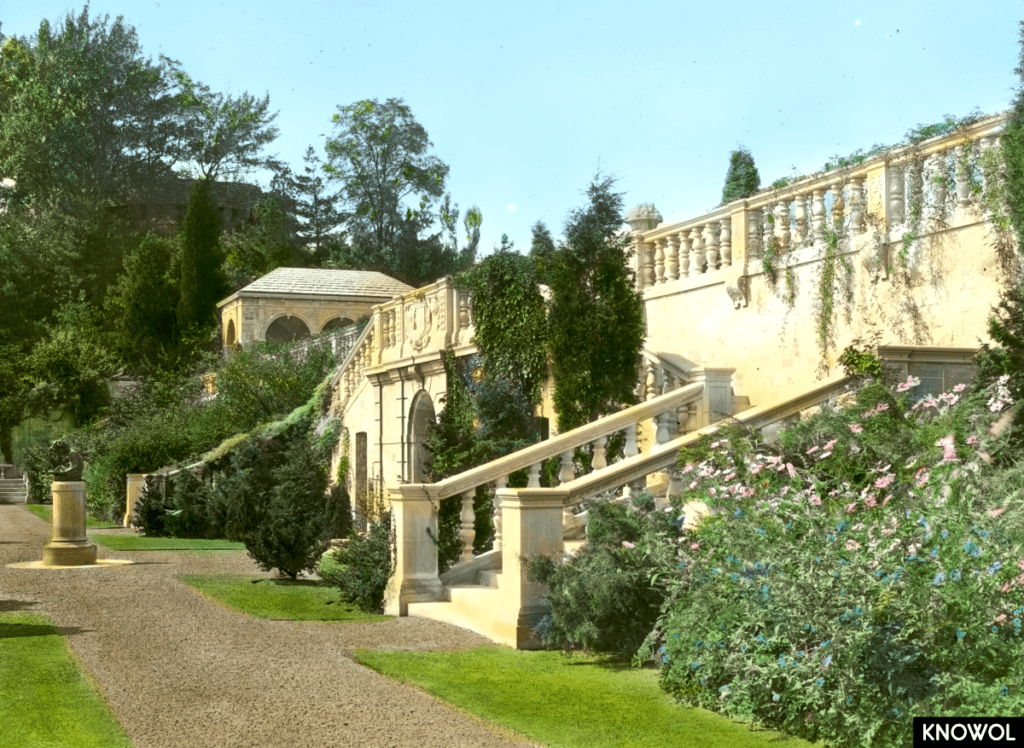 Many of the plants were imported from other states, and the estate was known to have one of the finest gardens in the country. Country Life magazine named Killenworth the "Best Country House in the United States" in 1915.
Green Garden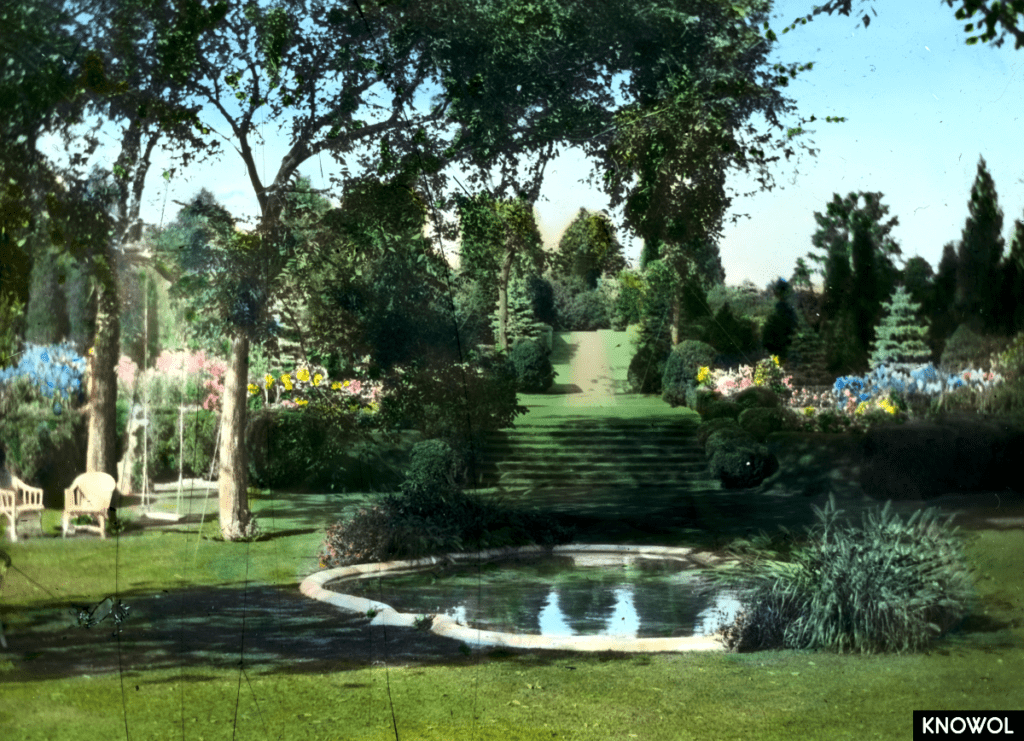 There have been accusations of the top floor being used to house spying equipment. In 2016, the U.S. State Department closed a similar Russian compound in Brookville, New York, but took no action on the Killenworth Mansion. Interior pictures of the mansion will have to wait for another day. For now these historic images are our best view of Killenworth.