Albert Poole, a Brockton, Massachusetts native, drew this map of Brockton one year after it was incorporated as a city. Brockton began as a small farming village and was originally part of the town of North Bridgewater when it was established in 1821. When Poole drew this image in 1882, Brockton had a population of approximately 14,000.
Poole began his career at a clerk and school principal in Brockton, and then began producing bird's eye views in 1880. This map of Brockton, MA was one of his earliest. He went on to have a prolific career as a bird's eye artist from 1880 to 1905, publishing an additional forty-five maps of Massachusetts and other New England towns.
Brockton History
Before the Civil War, Brockton was a center for shoe manufacturing and fulfilled large orders of boots for the U.S. Army. The shoe industry continued to grow and by the end of the 19th century Brockton was the largest shoe-producing city in the United States.
This map demonstrates how dependent the town's economy was on shoe manufacturing. Of the fifty-three manufacturing establishments identified in the legend, at least forty-five were involved in the making of shoes. The map is surrounded by twenty-three drawings of prominent buildings, sixteen of which are shoe factories.
The original map has been restored by KNOWOL and hosted here for you to explore for free. If you would like to purchase a copy of this map to display in your home, high quality reproductions are available here.
Click here to see a high resolution version of the map.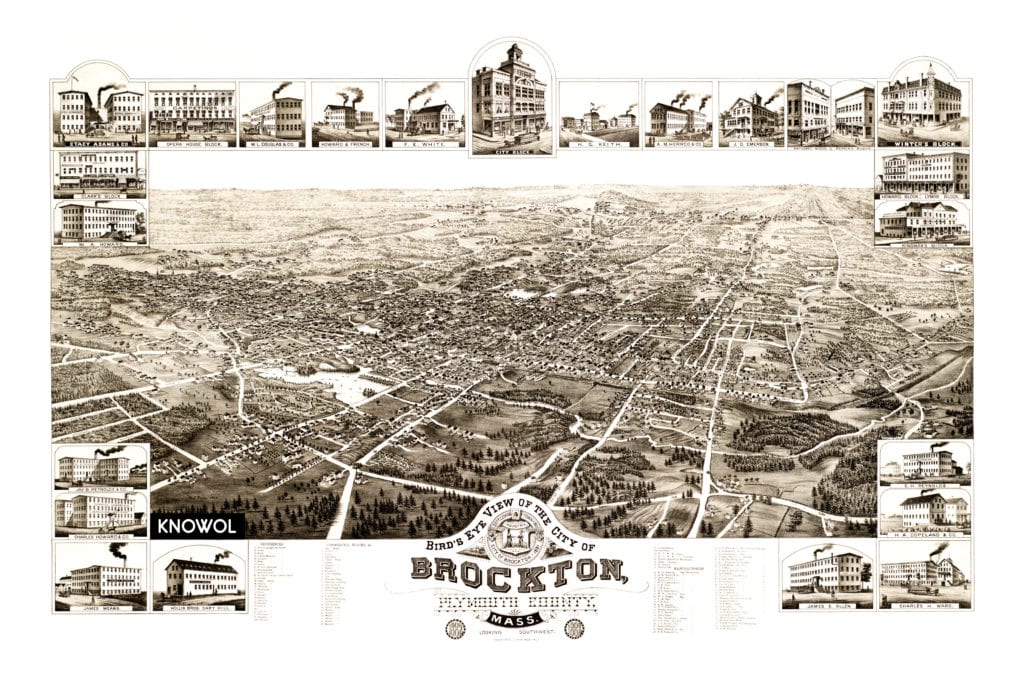 Click here to get a high quality reproduction of this vintage map of Brockton, Massachusetts.