The Chicken Roost was a restaurant in Bridgeport, CT that was famous for its "As You Like It" southern fried chicken. When the Chicken Roost opened in 1956, an entire chicken could be purchased for 95 cents, equal to $8.67 in 2017.
Bridgeport's "The Chicken Roost" was an offshoot of "The Chicken Coop", which began in Hartford. The restaurants were run by a family of five brothers, and became famous with Connecticut residents for their fried chicken, onion rings, and the cute baby pictures that adorned the walls.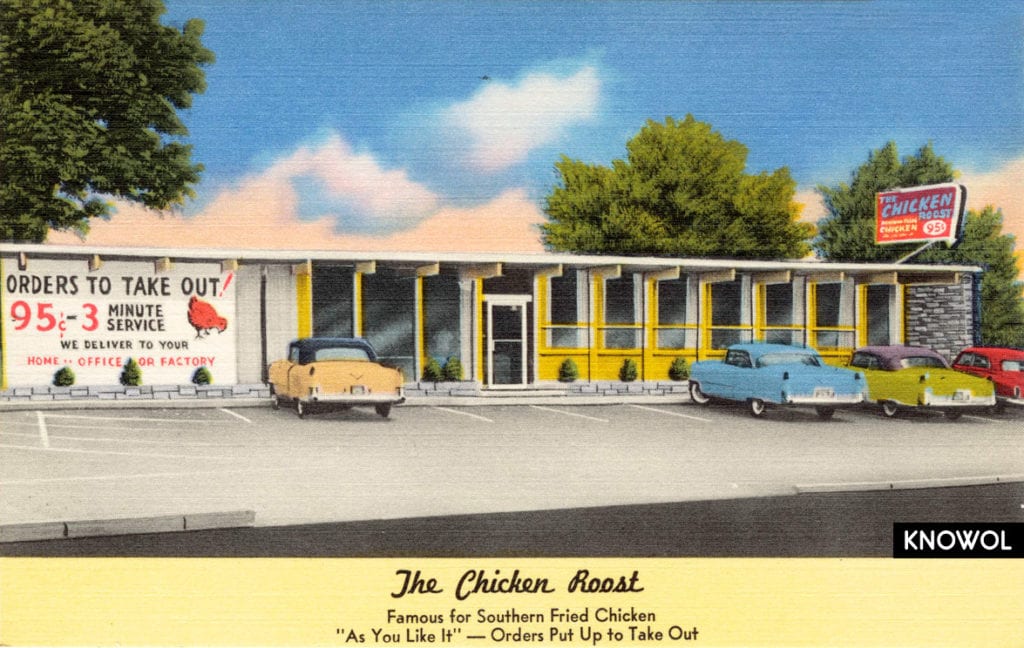 The Chicken Coop restaurant chain began in the 1940's when Nicholas C., opened the first location in Hartford in the 1940's. The chain grew to include locations in Blue Hills Ave in Hartford (take out only), E. Hartford, Bridgeport, Worcester, Springfield, Fall River, Warwick, RI (where the airport is now) and Providence. Some of the locations expanded their menu to include spaghetti, shells, and homemade lasagna.
If you're interested in reading more about the Chicken Roost in Bridgeport and the Chicken Coop in Hartford, City-Data has more than eight years of interesting message board posts from visitors reminiscing over the Chicken Coop.
According to Bridgeport, by Andrew Pehanick, Drumstik BAR-B-Q began operating in the old Chicken Roost location in 1981, and the area is now home to a strip mall.
Bridgeport's Chicken Roost location today
The Chicken Roost
Famous for Southern Fried Chicken "As You Like It"
Ham and Eggs or Bacon and Eggs served New York
style in the skillet – Orders put up to take out.
978 State Street (Corner of Norman St.)
BRIDGEPORT, CONN.
Open from 11 A.M.
Phone: 6-0900
Please share if you enjoyed this memory!