This historic map of Saint Paul, Minnesota was created in 1888 by the Orcutt Lithography Company of Chicago. The map shows a detailed bird's eye view of St. Paul as it once was, including street names and old landmarks.
Landmarks on the map include the site of the Ice Palace, City Market Hall, Rice Park, Baugh's European Hotel, St Joseph's Hospital, Bruggeman's Brewery, Union Iron Works, Crescent Creamery, Sioux City Freight Depot, Central Park, Minnesota Soap Company, Hamm's Brewery, St. Paul Plow Works, and more.
This historic map of Saint Paul was restored by KNOWOL. Reproductions of the restored map are available here.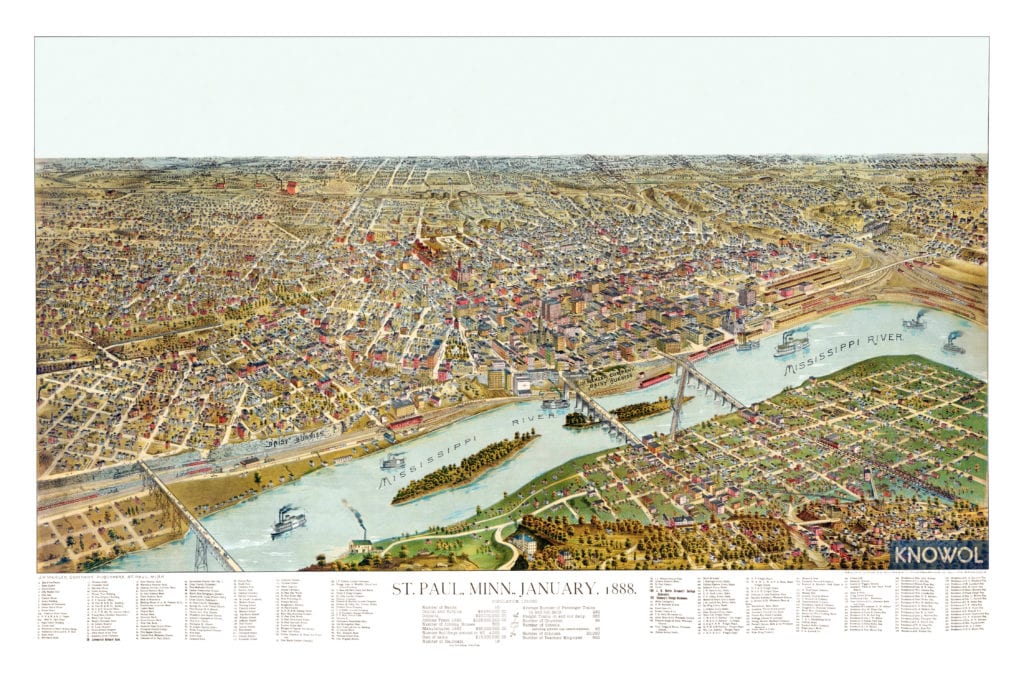 The map guide also features historical figures about St Paul in 1888 such as the number of banks (16), railroads (18), churches (96), schools (60), scholars (20,000), and teachers employed (500).
This old map of St. Paul will make an attractive addition to your office, library, or den and can even be used to teach children the geography and history of the area. When you're done exploring, click here to get your copy of the restored map.