These vintage travel posters were created in the 1920's to promote Lake Tahoe tourism via the Southern Pacific Railway. Lake Tahoe is a large freshwater lake in the Sierra Nevada of the United States. It is the largest alpine lake in North America, and the second deepest lake in the United States after Crater Lake in Oregon.
The lake was formed about 2 million years ago as part of the Lake Tahoe Basin. The modern lake was primarily shaped during the ice ages, and is known for the clarity of its water and the panorama of surrounding mountains on all sides.
Lake Tahoe is a major tourist attraction in both Nevada and California, and is home to winter sports, summer outdoor recreation, and scenery enjoyed throughout the year. Snow and ski resorts are a significant part of the area's economy and reputation. The Nevada side also offers large casinos, with highways providing year-round access to the area.
At the time these posters were created development around the lake consisted of a few vacation homes. Congressmen unsuccessfully tried to designate the basin as a national park during the 1912, 1913 and 1918 congressional sessions.
The post-WWII population and building boom greatly increased the popularity of Lake Tahoe. Construction of gambling casinos in the Nevada part of the basin began in the mid-1950s, and completion of the interstate highway for the 1960 Winter Olympics held at Squaw Valley, resulted in a dramatic increase in development within the basin.
From 1960 to 1980, the permanent population increased from about 10,000 to greater than 50,000, and the summer population grew from about 10,000 to about 90,000. In the 1980s, development slowed due to controls on land use.
These old Lake Tahoe travel posters have been fully restored to their original condition. Reproductions are available here.
Lake Tahoe Travel Poster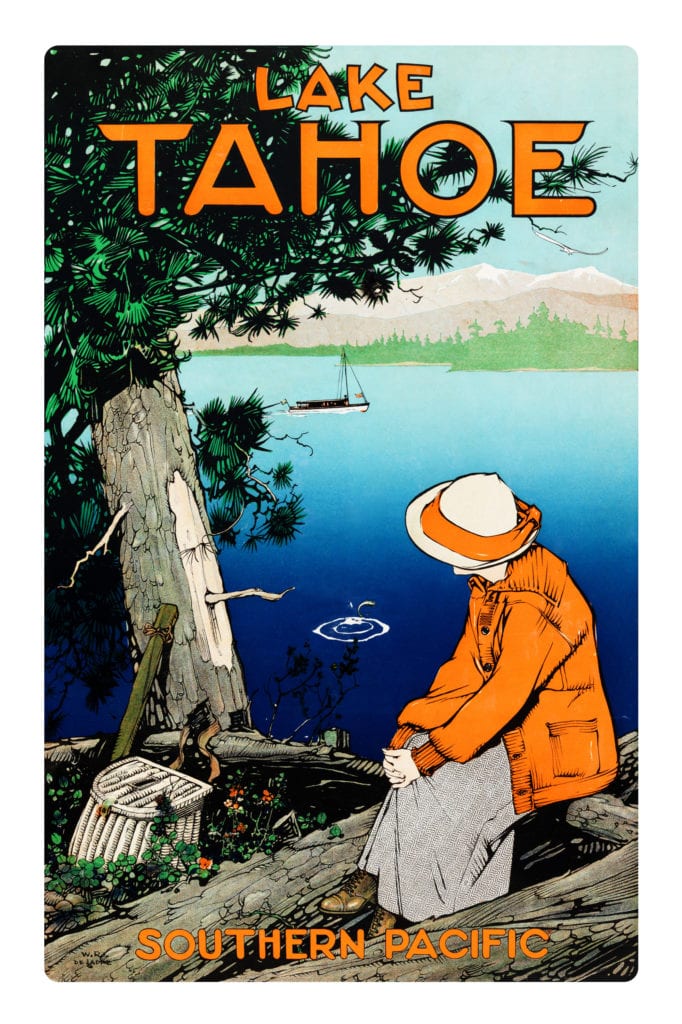 Vintage Lake Tahoe travel poster was created in 1923 by W.T. De Lappe. The poster shows a woman sitting atop a fallen tree and looking out at Lake Tahoe while a boat passes and a fish jumps from the water.
Tahoe Lake Region Poster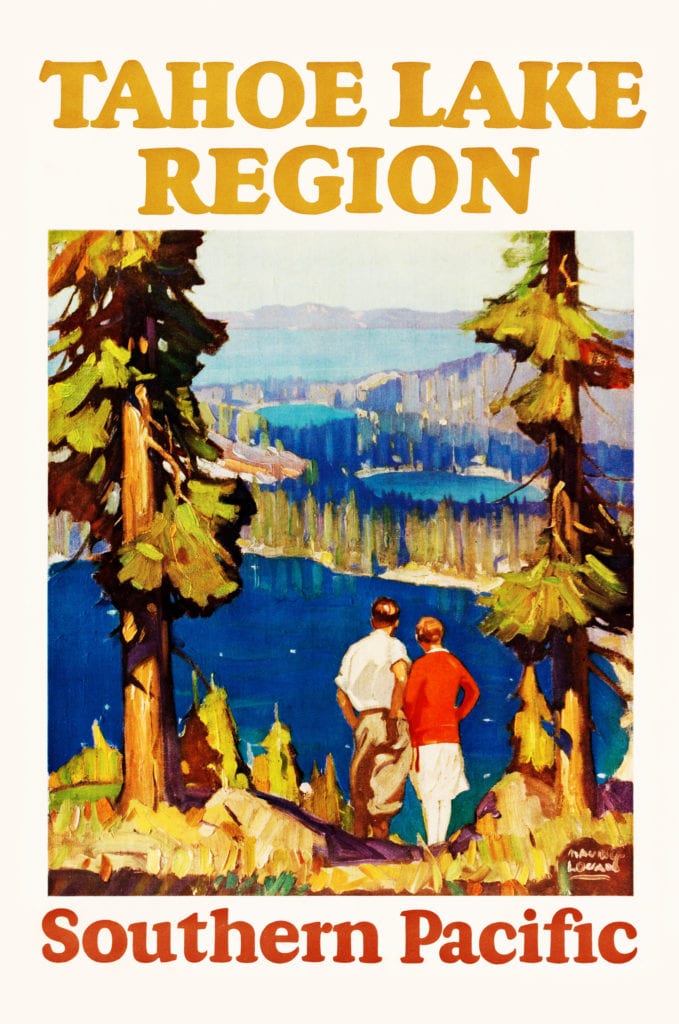 This old Lake Tahoe travel poster shows a man and woman standing atop a ridge while overlooking Lake Tahoe. The poster was created in 1927 by Maurice Logan.
Lake Tahoe
Poster shows two rowboats on Lake Tahoe. A woman stands on shore, fishing next to a tree. This poster of Lake Tahoe was designed by "Maurice Logan" in 1922.
These vintage Lake Tahoe travel posters make an attractive addition to your office, library, or den. When you're done exploring, click here to buy a copy of the posters!