This map of Bellows Falls, Vermont was originally created by L.R. Burleigh in 1886. The map shows a magnificent bird's eye view of the city as it developed into a prosperous town.
In 1802, entrepreneurs built the first paper mill in Windham County. In 1849, two railroad lines converged at Bellows Falls, helping it develop into a major mill town. The town originally produced primarily paper and farm machinery, but by 1859 Bellows Falls factories producing furniture, marble, blinds, iron castings, carriages, cabinets, rifles, harness, shoe pegs and organs. Bellows Falls incorporated as a village in 1909.
This map of Bellows Falls shows landmarks such as St. Agnes Hall, Town's Hotel, Island House, and the numerous paper mills which were once a mainstay of the town's economy.
This vintage map of Bellows Falls has been restored by KNOWOL. Reproductions of the map are available here.
Click here to see the full map.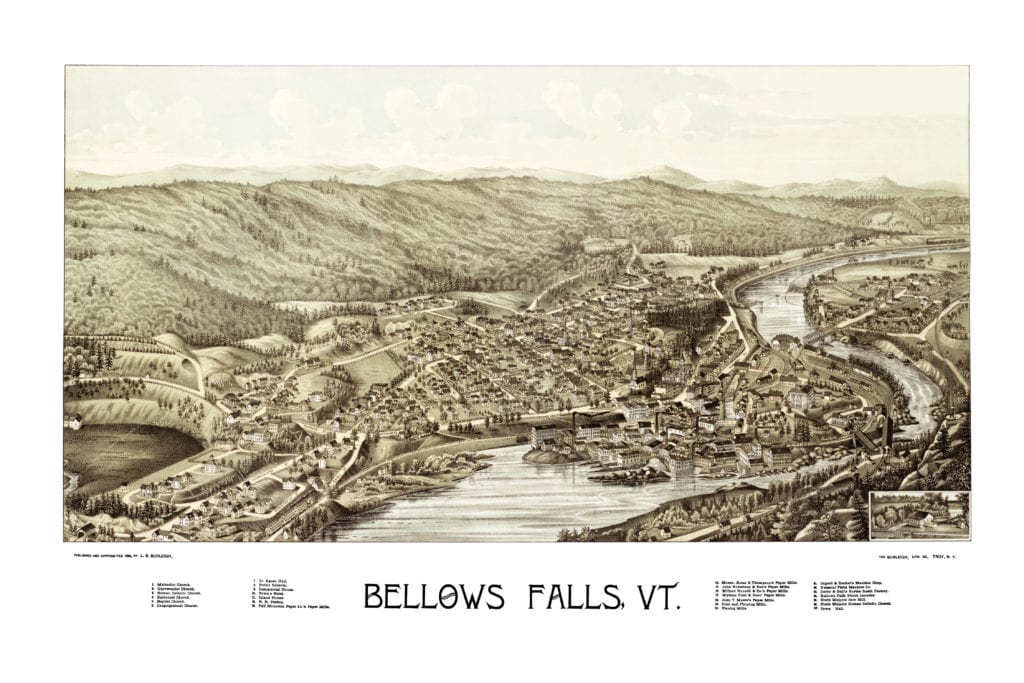 This old map of Bellows Falls will make an attractive addition to your office, library, or den, and can even be used to teach children the geography and history of the town. When you're done exploring, click here to get your copy.