This collection of vintage beer advertisements provides a glimpse into the world of beer and brewery marketing in the 19th and 20th century. Each poster been carefully restored, and many are being published here for the first time.
Six Drunk Gnomes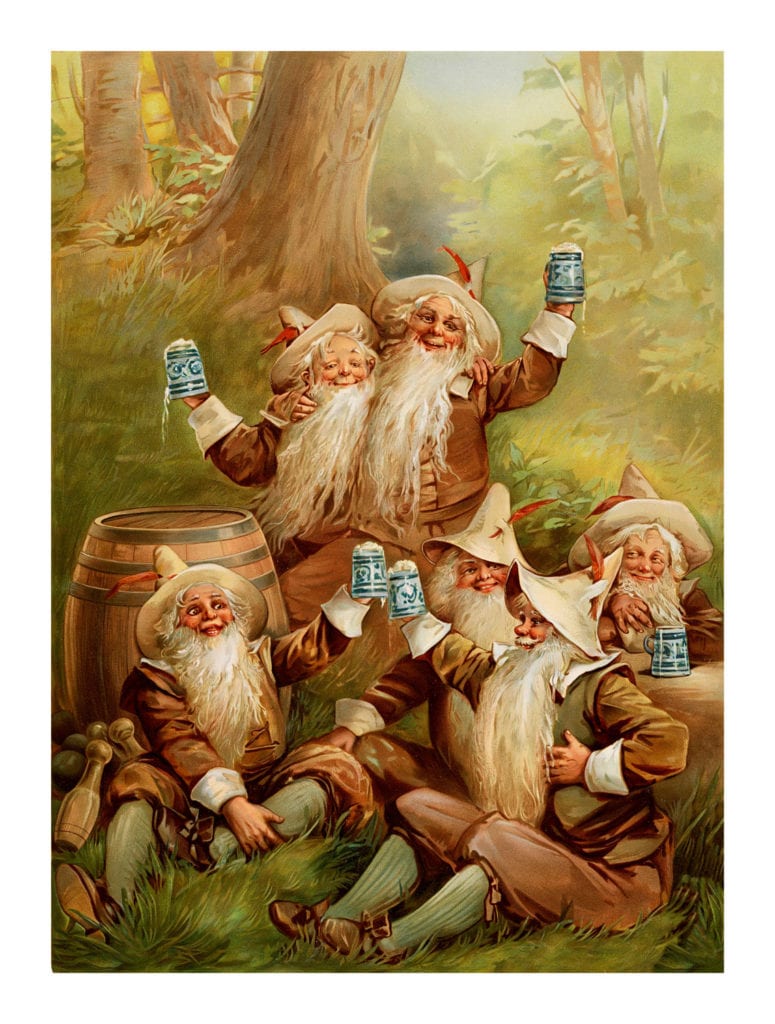 Six smiling bearded gnomes enjoying frosty beers in the grassy woods. Each gnome holds a stein of beer, showing signs of good cheer and revelry. The gnome to the left leans against a wooden barrel next to bowling pins and balls.
The print had no identifiable information, but the owner believes it was created in the 1800's based on the artistic style. The only other known copy is held by the Smithsonian.
John L. Sullivan Beer Poster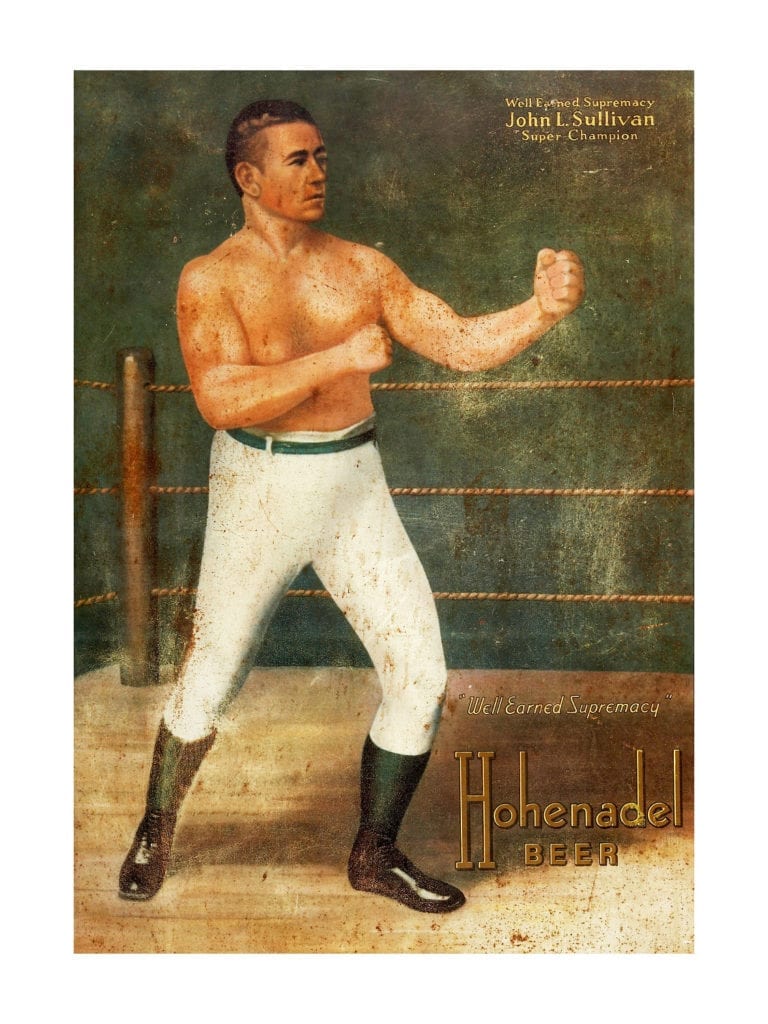 John Lawrence Sullivan, also known as the "Boston Strong Boy", was an Irish-American boxer recognized as the last heavyweight champion of bare-knuckle boxing and the first heavyweight champion of gloved boxing. He held the title from February 7, 1882, to 1892.
In his later years, Sullivan also gave up his lifelong addiction to alcohol and became a prohibition lecturer, but years after his death the Hohenadel brewery used his likeness to sell their beer, promoting both Hohenadel Beer and John L. Sullivan as figures of "well earned supremacy".
Bock Beer Poster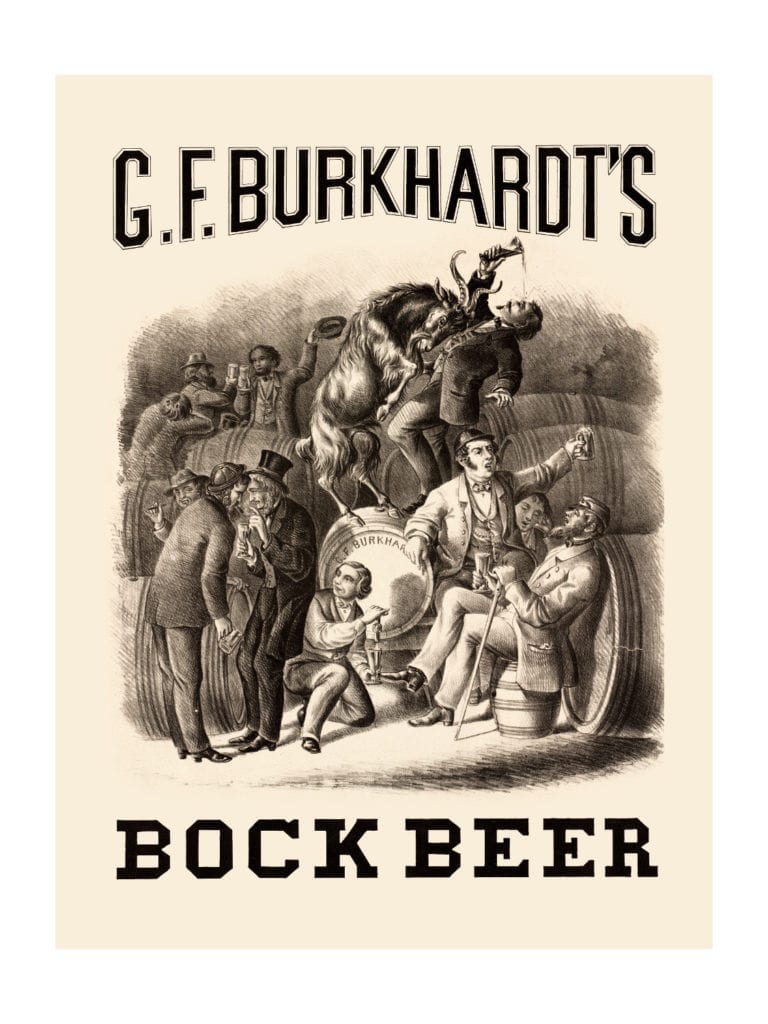 This advertising poster for the Burkhardt Brewing Company was created by Charles Wellington Reed in 1877. The image shows a group of drunk men surrounded by kegs drinking beer surrounded by kegs of beer. A goat, the symbol of bock beer, is standing on one of the kegs and helping one of the men knock back his beer.
Miss American Beer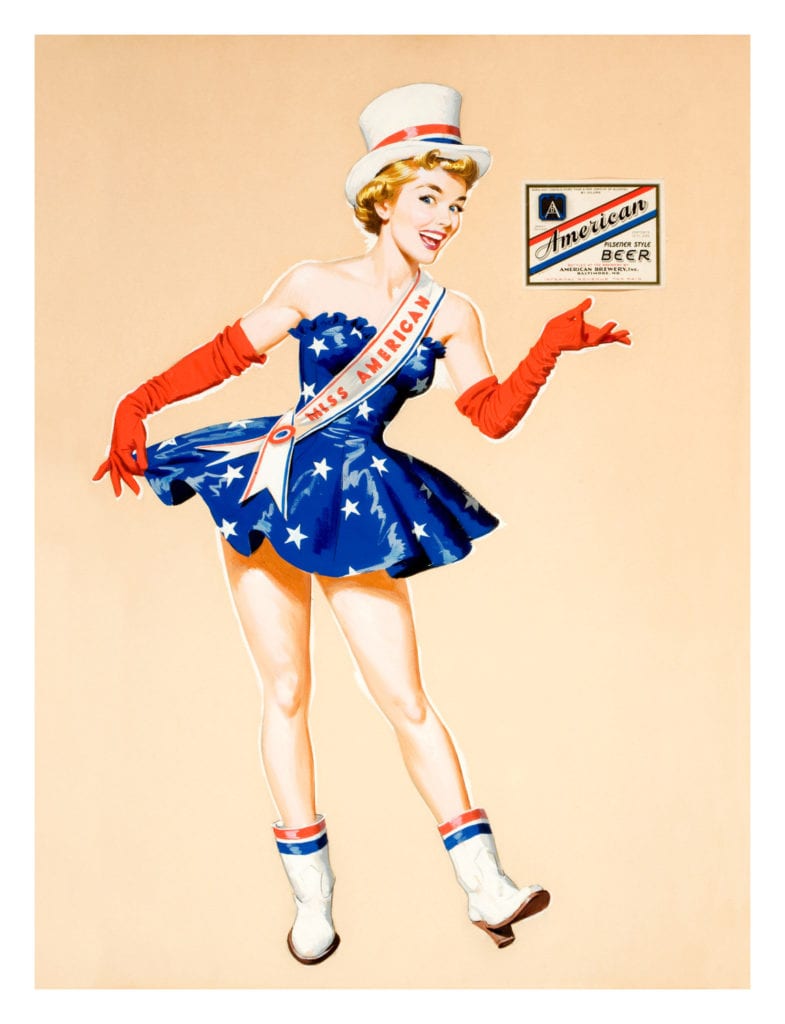 The American Brewery was located in East Baltimore, and was one of the largest breweries in the state of Maryland. At its peak, the brewery employed 61 workers, but prohibition forced the shutdown of the facility in 1920. The building still stands at 1701 North Gay Street and is now a historic landmark in Baltimore.
This poster from the early 20th century advertises the brewery's "Pilsener Style Beer", with a note that the beer "does not contain more than 4 per centum of alcohol by volume."
Beer Barmaid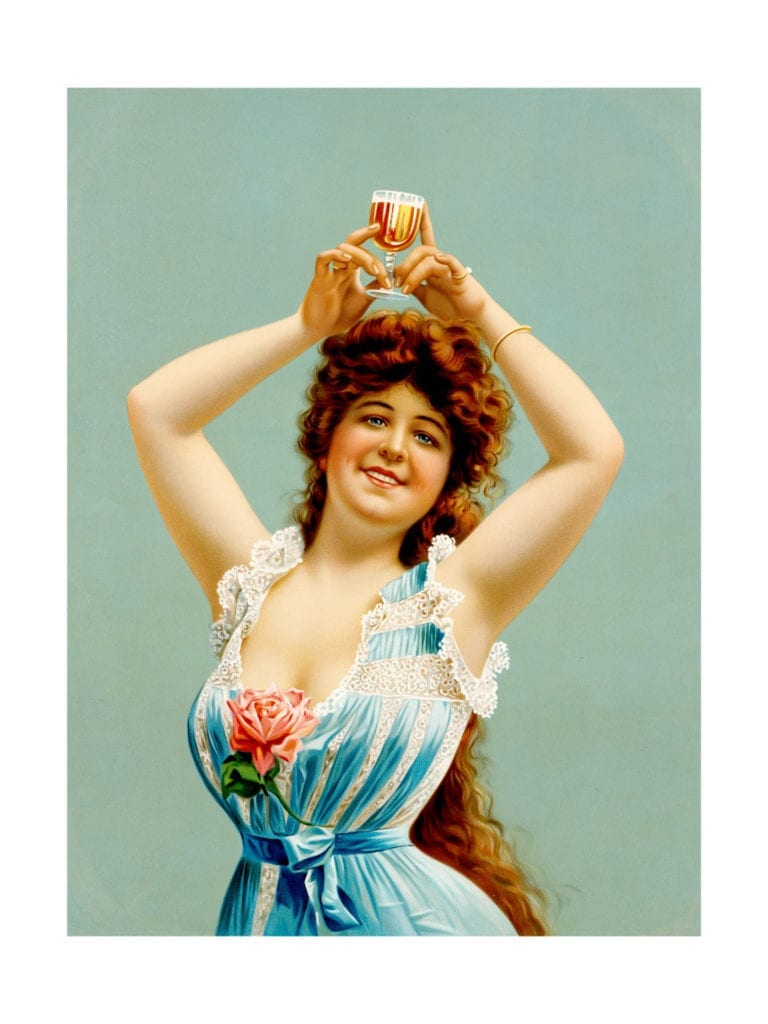 Like many of today's craft beer drinkers on social media, this woman is proudly displaying her beer for all to see. No information on the print other than a date of 1907.
Presenting the Hops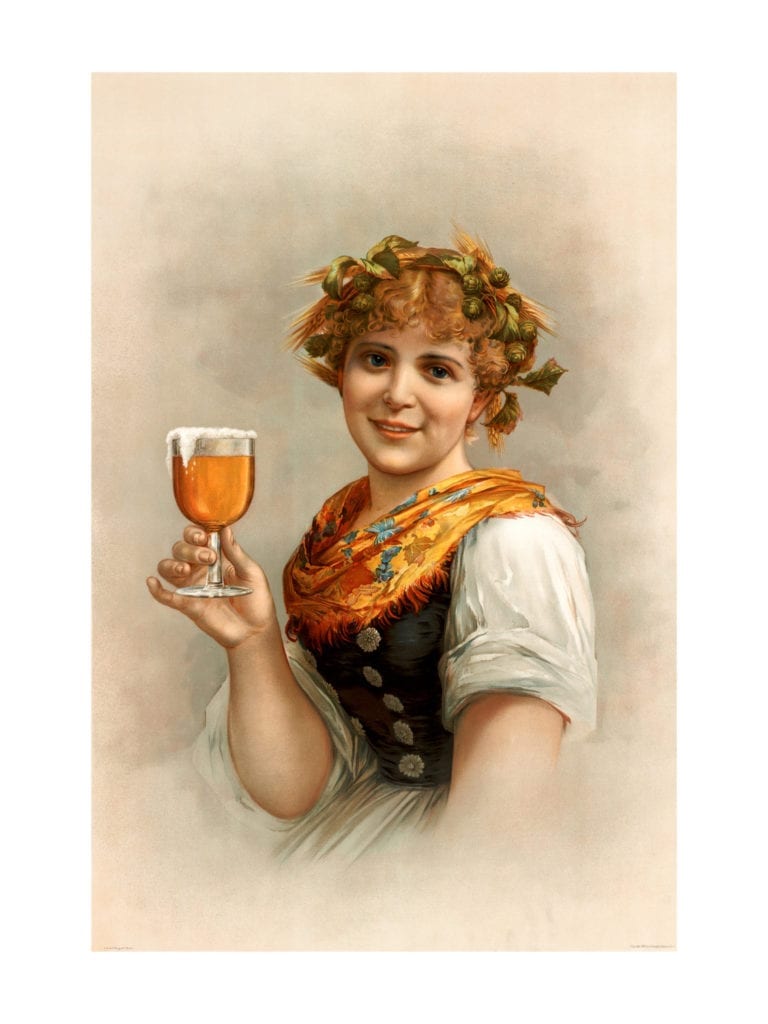 This image shows a smiling barmaid wearing a yellow flowered scarf and black vest with silver buttons, holding a glass of foaming beer up to toast. Believed to be from 1890, this poster is similar in style to the previous one, but again the author and purpose is unknown.
John R. Alley & Sons Brewing

This art print was created to advertise John R. Alley & Sons Brewing Company in 1880. The image shows an older man sitting on a chair reading a newspaper, carpentry tools lay at his feet. A bottle of Alley's beer and the glass it was poured into can be seen on the crate beside him.
ABC Brewing of Boston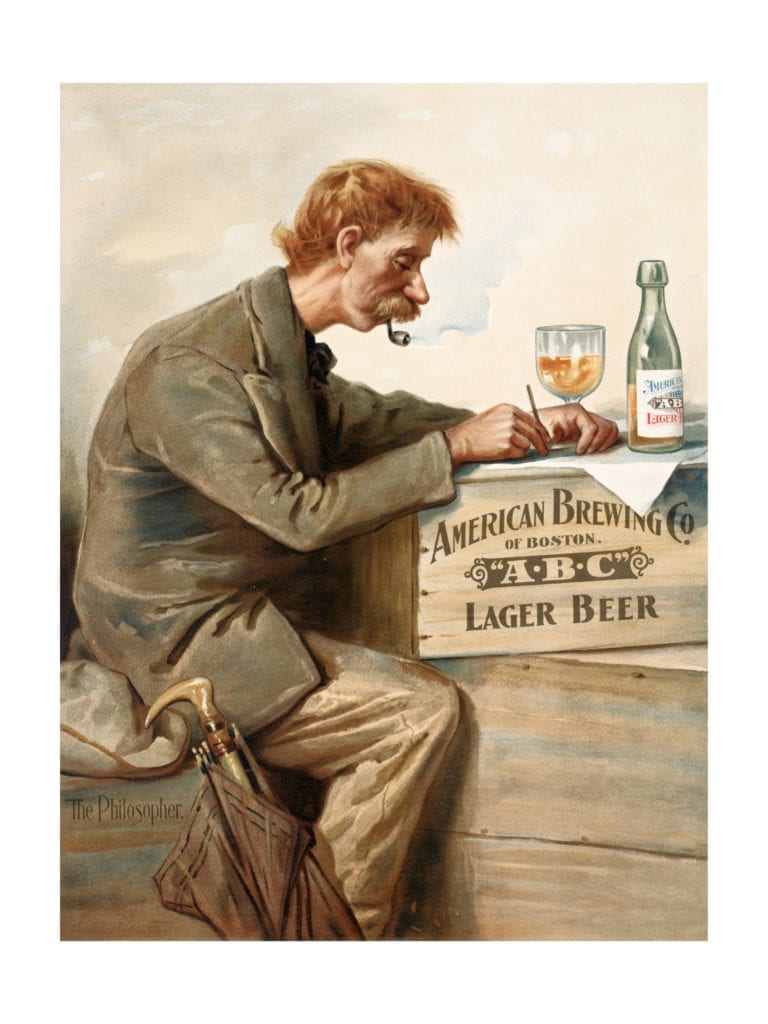 This print is named "The Philosopher" , and shows a shabby man smoking a pipe while sitting to write a letter atop of "American Brewing Co." beer crates. American Brewing Company of Boston was also known as "ABC beer."
Jacob Geiss' Bocks and Porters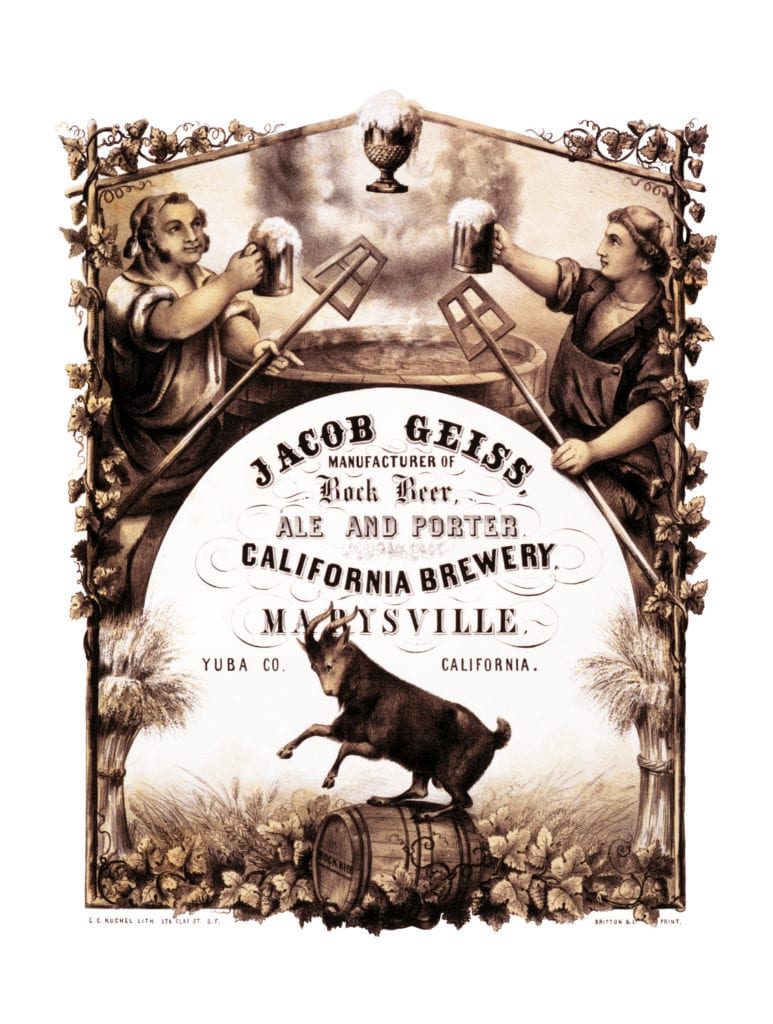 Jacob Geiss Brewery was founded in 1855 to provide a gathering place for newly arrived German immigrants in Marysville, California. Jacob Geiss intended the brewery and adjoining beer garden to be a place where Germans could talk, play cards, drink beer and listen to German music.
Bringing you this wonderful walk down beer history lane involved days of digitization, restoration, and research, so we are offering some of these images for sale in hopes that we can afford the rising craft beer prices. Our prints are created using higher quality images than the ones above, and are printed on a thick matte paper. Click here to get one!