This map of Arlington, Massachusetts was created in 1884 by O.H. Bailey, a prominent 19th century map maker. The map shows a bird's eye view of Arlington from the south, looking north across the center of the village, including street names and old landmarks.
Spy Pond, seen in the foreground, was home to a large ice industry from the mid-19th century until the last ice house burned down in 1930. Much of Arlington's ice was sent to the Caribbean and India by "Ice King" Frederic Tudor.
Other landmarks on the map include Boston & Lowell Railroad Stations, "The Heights" School, Arlington Hotel, Spy Pond Hotel, Mystic Pond, Arlington Heights Sanitarium, Gage's Ice Houses, Schwamb Piano Case Manufactory, Hobb's Knife Factory, the "Advocate" office, and more.
This historic map of Arlington, MA has been restored by KNOWOL. Reproductions of the map are available here.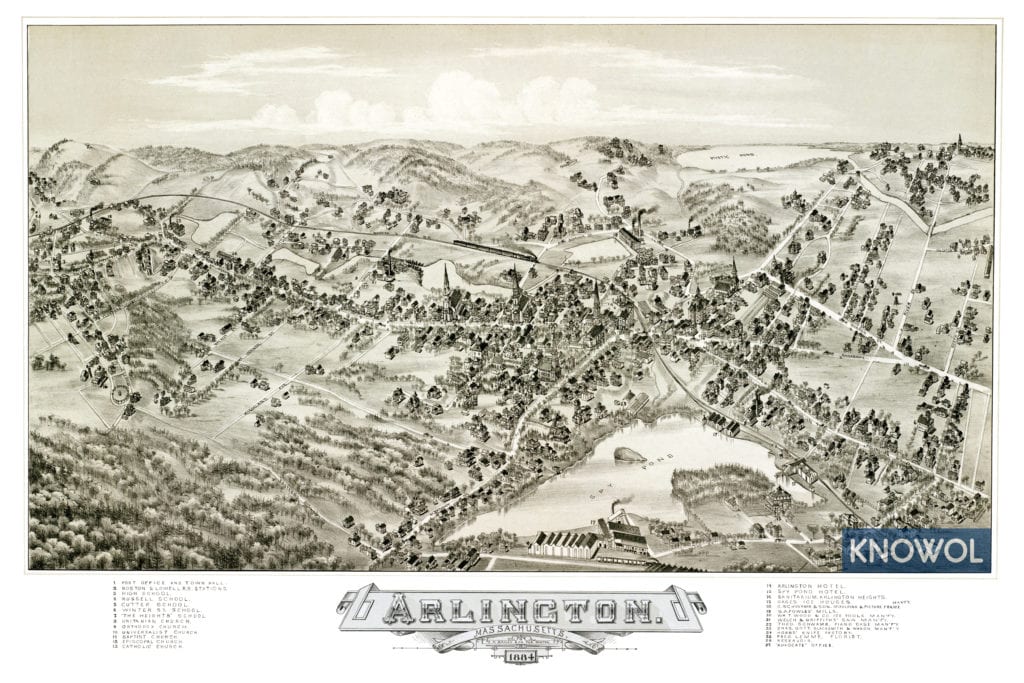 This map of Arlington will make an attractive addition to your office, library, or den and can even be used to teach children the geography and history of the area. When you're done exploring, click here to get your copy.