The Dual Level Hudson River Tunnel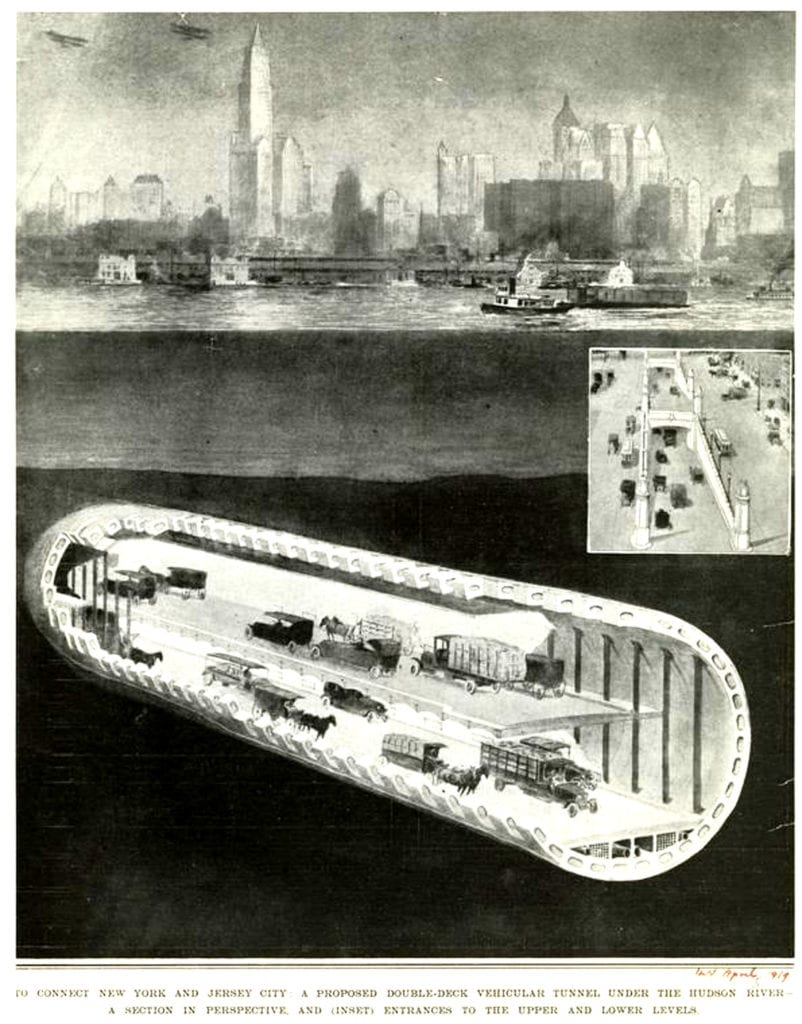 When planning the Holland Tunnel, New Jersey and New York officials considered eleven different proposals. The dual level design as seen above was created by General George W. Goethals, chief engineer of the Panama Canal.
Goethals' design consisted of a single tunnel with two roadways, one above the other, with three lanes for vehicles and a sidewalk for pedestrians. The proposed roadways were 24.5 ft wide. Today's Holland Tunnel has 20 ft roadways.
Section of Proposed Hudson River Tunnel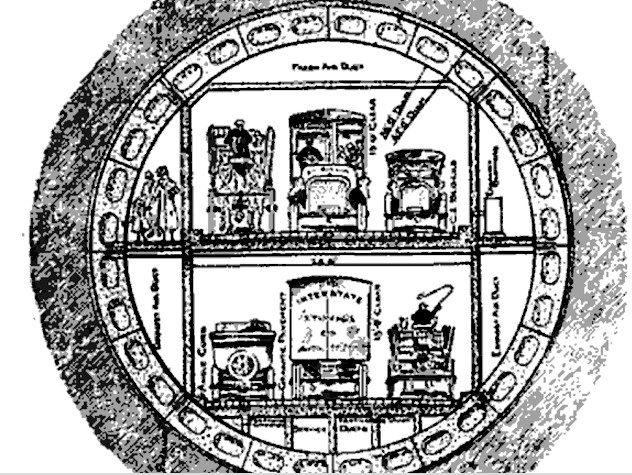 The February 15, 1919 edition of the Railway Review reported,
"A double-deck vehicular tunnel is to be constructed between Twelfth and Provost streets in Jersey City and Canal and Varick streets in Manhattan. Gen. Goethals reports that the work can be completed in two years…

…With tolls fixed at 30 cents on the New York side, it is estimated that traffic, together with rentals for conduit rights, would produce sufficient revenue, over and above maintenance, to retire the bonds and yield some surplus besides."
The tunnel was expected to carry 5.6 million vehicles in 1924 and 13 million vehicles by 1934. In 2016, more than 19 million vehicles traveled through the Holland Tunnel.
Final Holland River Tunnel Design
In 1919, city officials decided that a two tube design would best meet traffic requirements across the Hudson River, despite having one less lane in each direction than Goethals' design. The commission decided to adopt two twenty food roadways with two lanes of traffic in each direction, a design submitted by Clifford Milburn Holland, for who the tunnel is named. A cross section of the final design is shown above.
Construction began in 1920 and the Holland Tunnel opened at 4:55 pm on November 13, 1927. The tunnel was named after its chief engineer, Clifford Milburn Holland, who died on October 27, 1924 after spending the last four years of his life building the tunnel.
The Holland Tunnel remains one of two tunnels under the Hudson River, joined by the Lincoln Tunnel in 1937.
Sources
Report on the Hudson River Vehicular Tunnel, 1921
Railway Review, February 15, 1919
Iron Trade Review, May 4, 1922