Stanley Kubrick was a staff photographer for LOOK Magazine from January 7, 1947 to September 12, 1950.  Kubrick was the youngest staff photographer in LOOK magazine's history, and would go on to become one of the greatest and most influential directors in cinematic history.
The company that owned LOOK Magazine transferred all of its copyrights in the LOOK Magazine Photograph Collection to the United States, only asking that the Library convey the desire that the photographs "Not be used for advertising or trade purposes."
The Library does not provide further interpretation of this phrase, but the Kubrick estate recognizes that Stanley Kubrick was a LOOK staff photographer from January 7, 1947 to September 12, 1950. All Kubrick photos published here are from those three years, and show the early seeds of Kubrick's iconic filmmaking style and narrative.
1. Bodybuilder Gene Jantzen with wife, Pat, and eleven-month-old son, Kent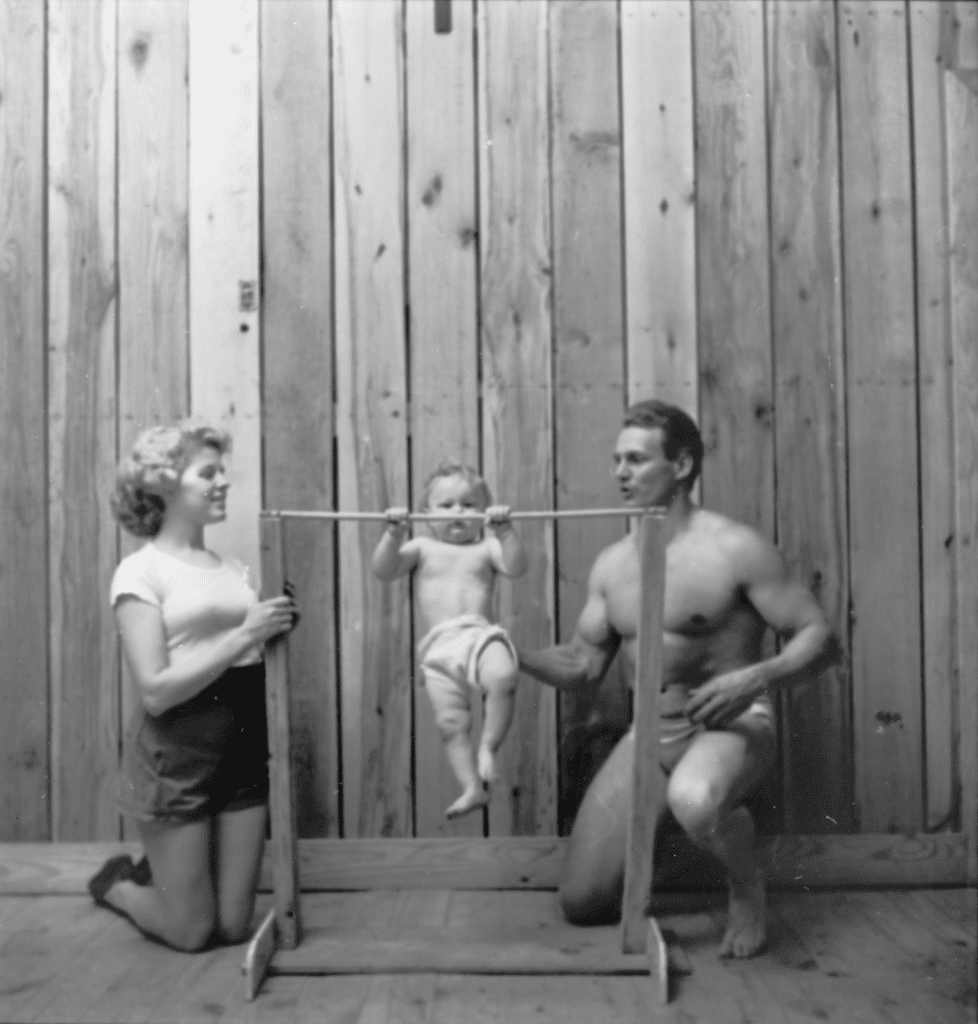 This photograph was taken by Stanley Kubrick on June 2, 1947. Kubrick was nineteen years old at the time. The picture shows bodybuilder Gene Jantzen, who won the title of "Best Physique in America" in 1947, helping his eleven month old son Kent do a pull-up while his wife watches.
The Chicago Tribune published an interview with Jantzen on October 7th, 1990 which says Jantzen was on the cover of Strength and Health magazine in 1946 and also won the titles of Mr. New York, Mr. California, Mr. Illinois, Mr. Heart of America, Mr. Junior America, and placed third in two Mr. America competitions. Based on this picture, we can assume his good physique got passed down to his son.
2. Woman wearing lingerie while smoking in an office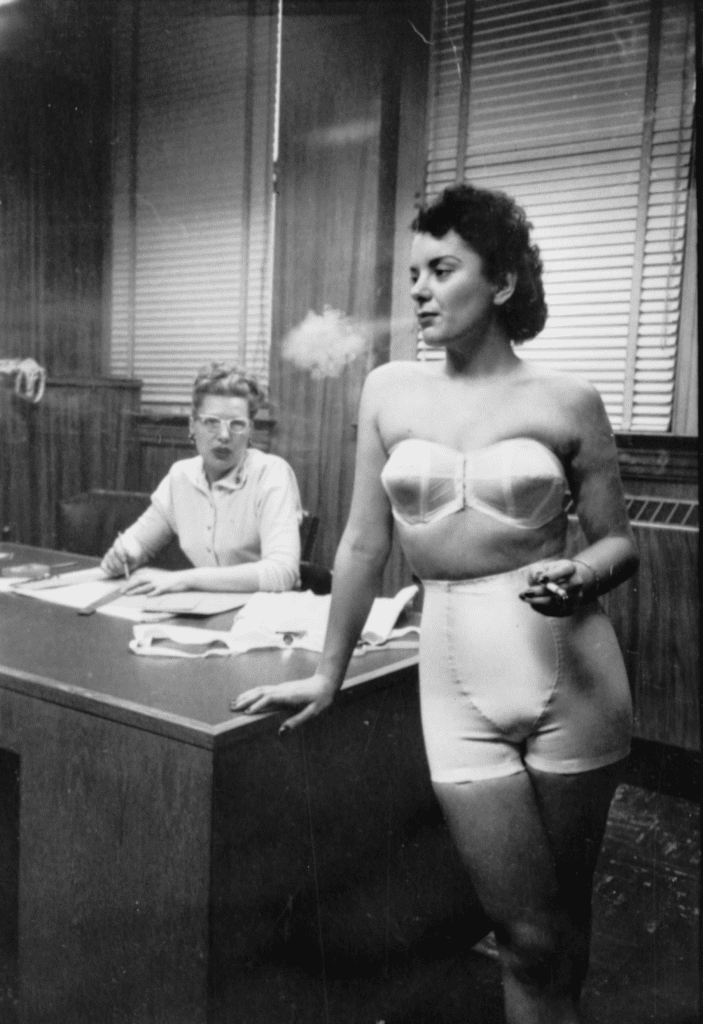 At the time this picture was taken on January 27, 1949, Stanley Kubrick would have been 20 years old. There aren't many young men who can say they've been sent on assignment to take pictures of older women smoking in lingerie. Clearly destined for greatness from a young age.
3. Lingerie model smoking in front of an annoyed secretary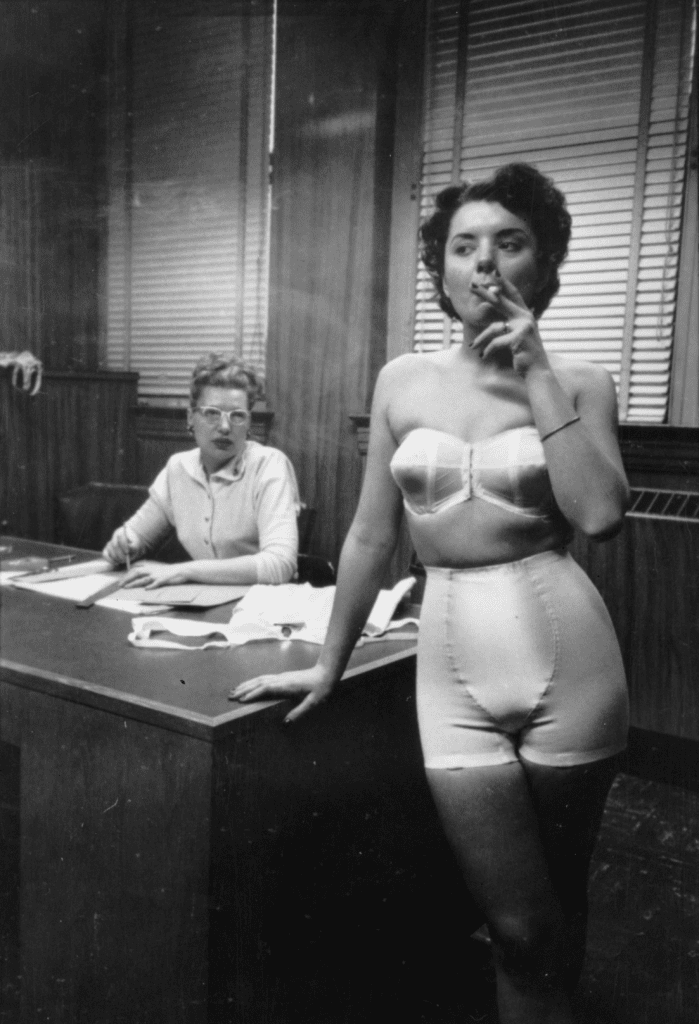 The secretary seems to be annoyed in both of these pictures. Kubrick most likely didn't mind the view. The notes on the photo are, "Lingerie model, wearing a girdle and strapless bra, smoking in an office; in the background a woman sits at a desk. / Stanley Kubrick."
4. Woman seated in chair while another woman models a dress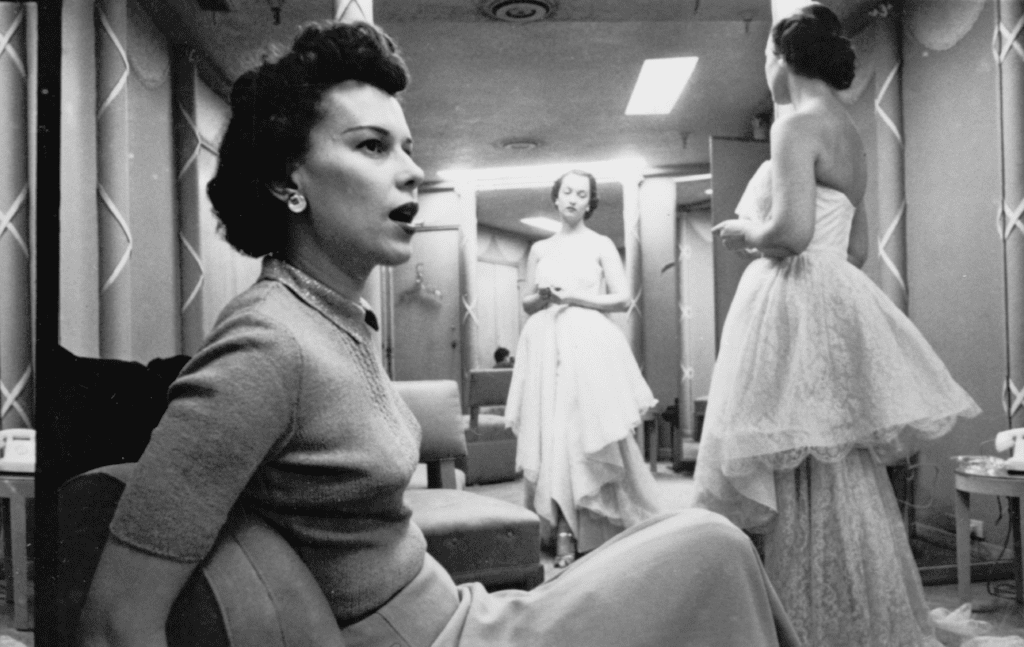 This picture by Stanley Kubrick was taken somewhere in Chicago in January, 1949. The model in the foreground looks very similar to the smoking model from the two pictures above. It is possible Kubrick photographed those pictures while she was getting ready.
5. Dining in Chicago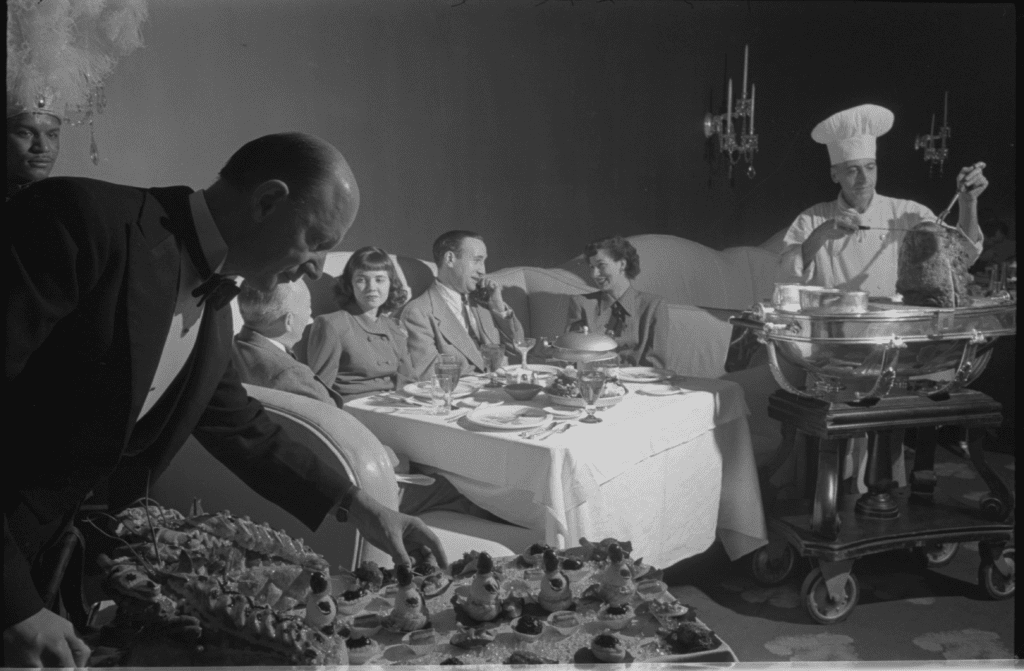 In this picture, Kubrick captured a family dining in the Pump Room at the Ambassador East Hotel in Chicago. The maitre d'hôtel is arranging a display of food on a rolling tray and a chef is carving meat next to the table while one of the guests is speaking on a phone.
6. Butcher holding slab of beef in a meat locker

Stanley Kubrick took a trip to the butcher while in Chicago and captured this picture of a butcher holding a slab of beef. Maybe the beef the chef was slicing in the previous picture?
7. Chicago Schoolgirl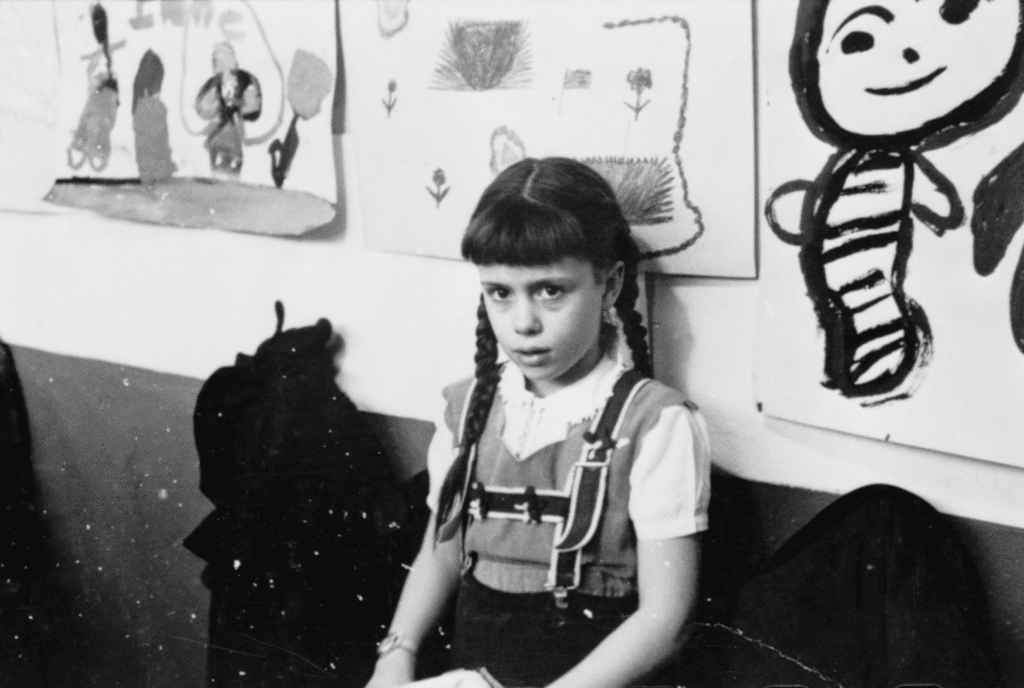 This photo by Kubrick is titled, "Young girl, half-length portrait, standing against wall displaying art work, in classroom in Chicago, Illinois." For those interested in photography, the unedited picture was labeled super xx, which is referring to the type of film used, Kodak Super-XX. This was Kodak's standard high-speed film from 1940 to 1954.
8. Chicago Schoolboy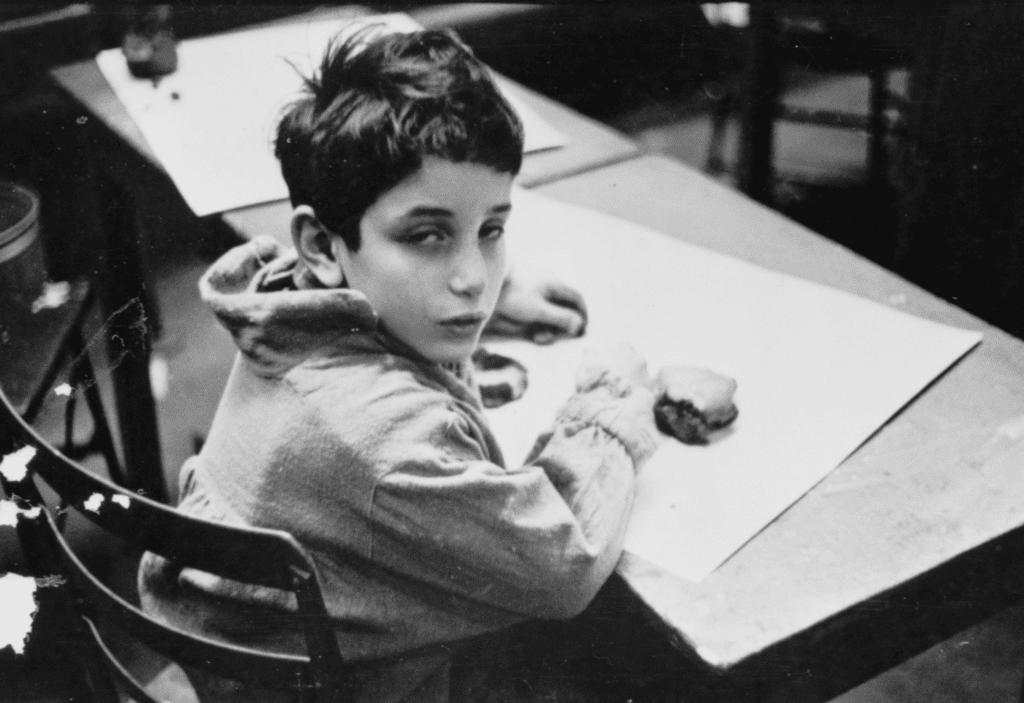 Likely taken by Kubrick in the same school as the previous photo, this picture shows a half-length portrait of a young boy seated at desk in a Chicago, IL classroom.
9. Steel worker in mill as molten steel spills from vat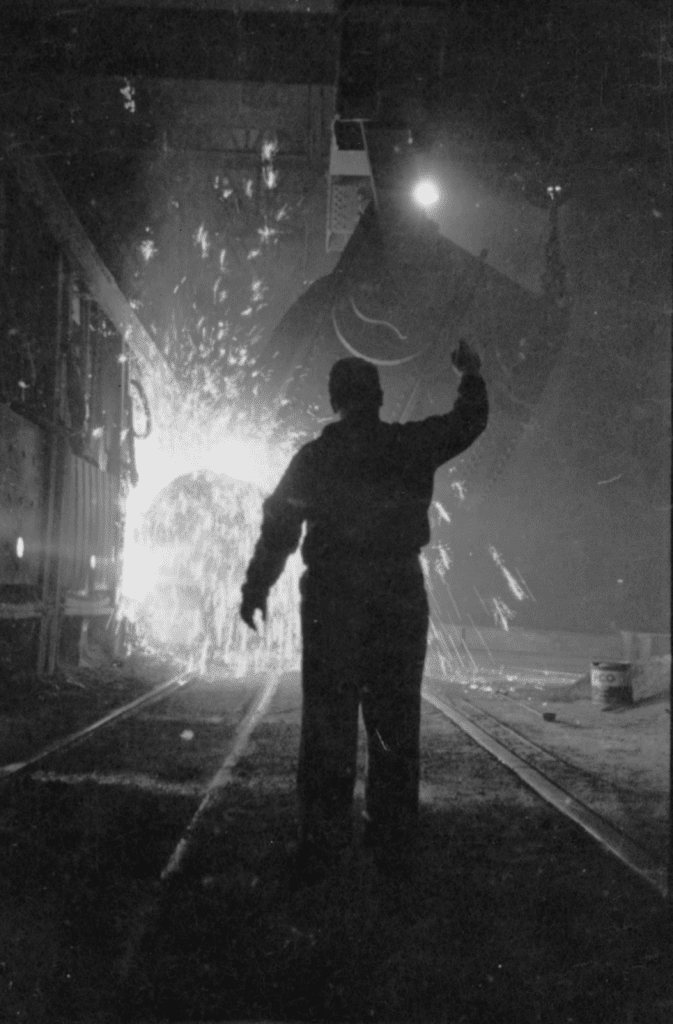 Stanley Kubrick visited a steel mill in Chicago and captured this picture of a worker's shadow outlined by the light from the smelter.
10. View from street level of the "L" elevated railway in Chicago, Illinois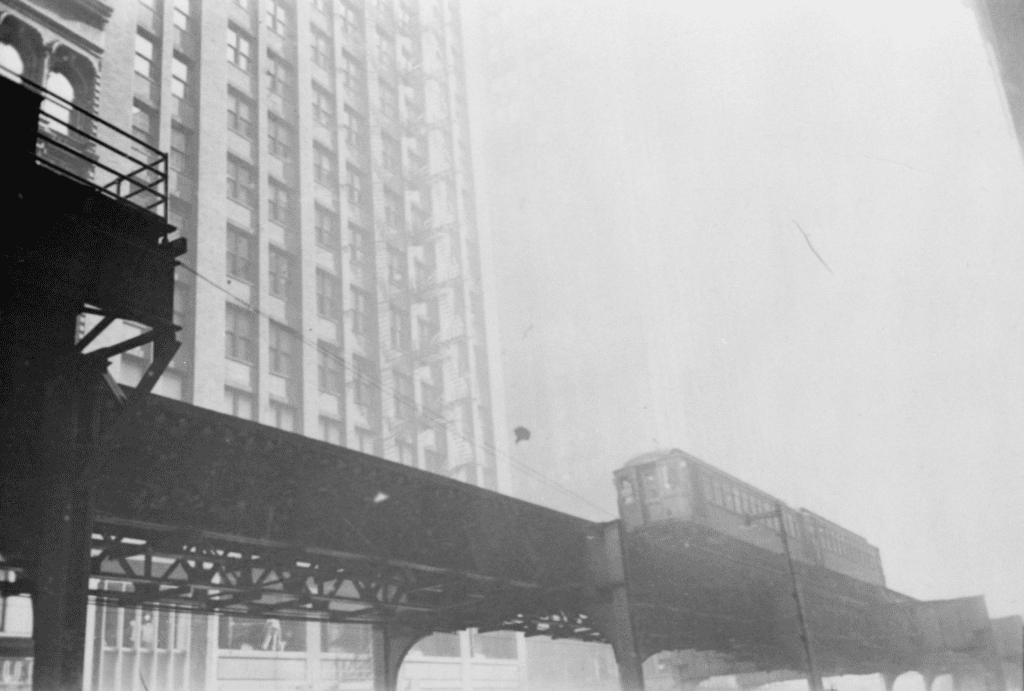 Kubrick's photograph of The Chicago "L". The "L" is the elevated train system serving the city of Chicago and some of its surrounding suburbs in Illinois. This is the original quality of the photograph, so it is possible there was fog rolling in from Lake Michigan.
11. Commuters walking along a platform next to a train in Chicago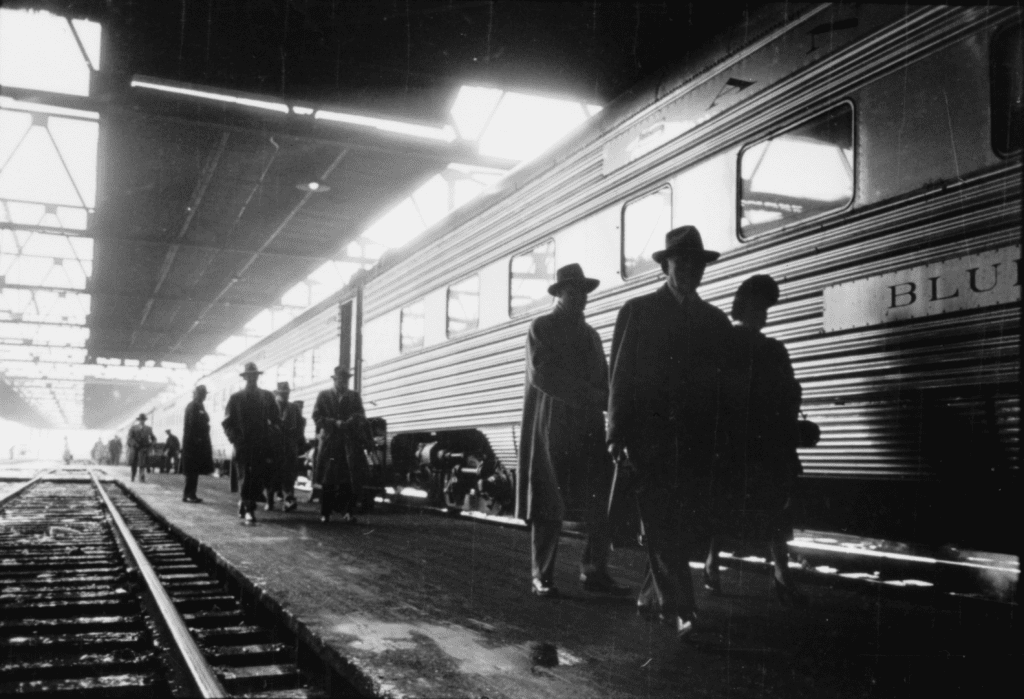 Passengers heading to their train at Chicago's Union Station.
12. Commodities traders on the floor of Chicago Board of Trade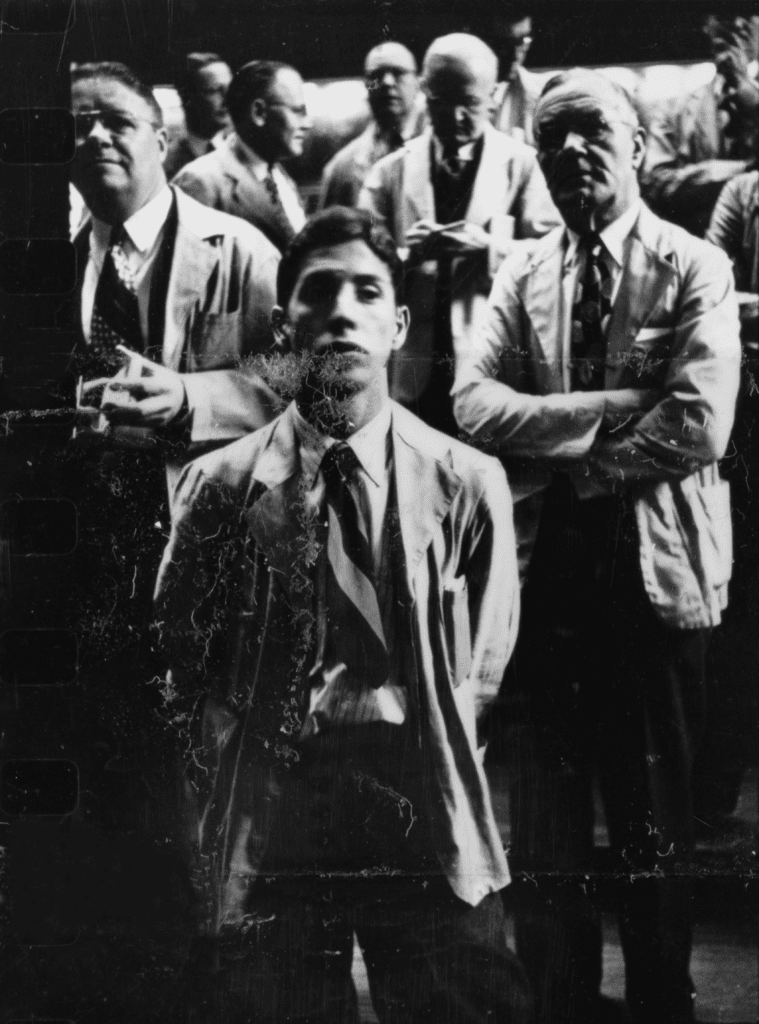 This image focuses on traders working at Chicago's Board of Trade. The Chicago Board of Trade was established in 1848 and is one of the world's oldest futures and options exchanges.
13. Commodities traders placing orders at the Chicago Board of Trade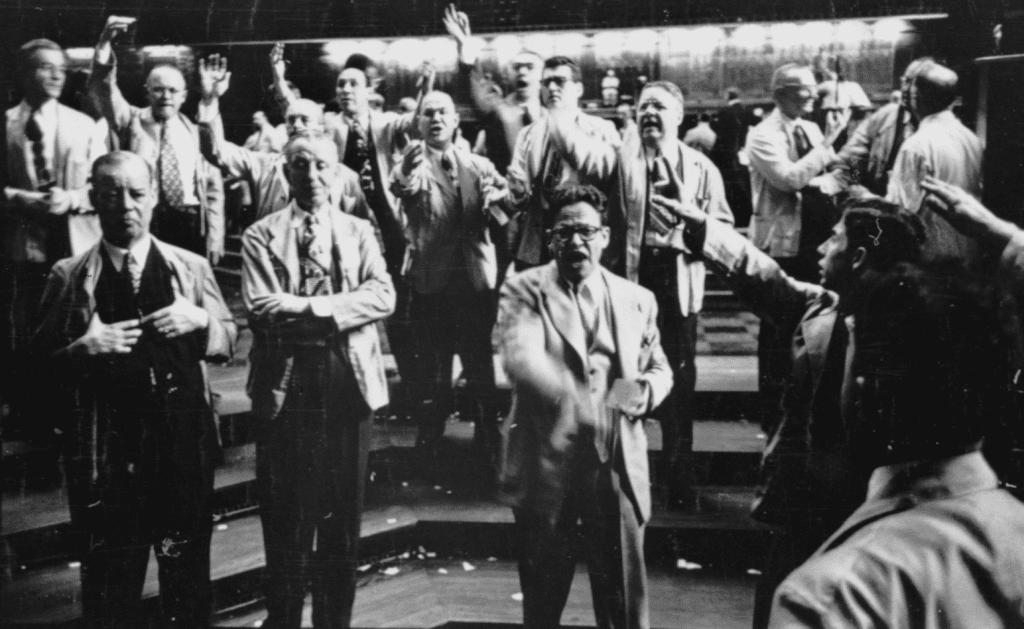 We hope you enjoyed this series of photographs from Stanley Kubrick. If you enjoyed this series, be sure to sign up for our mailing list, and we will email you when we have another great series of images to share with you.
Credit Line for photographs on this page: Stanley Kubrick, photographer, LOOK Magazine Photograph Collection, Library of Congress, Prints & Photographs Division