This old map of New London, Connecticut was created in 1946 by Harve Stein. Stein was an illustrator who studied at the School of the Art Institute of Chicago and the Grand Central School of Art. He was the Founding Chairman of the Commercial Illustration Department at the Rhode Island School of Design and later taught at Connecticut College in New London.
Harve Stein moved to Connecticut in 1946, the same year he created this map celebrating New London's 300th anniversary. The map describes New London as,
"The Home of BOLD INDIANS, HEROIC PILGRIMS, HARDY WHALERS, STAUNCH SEAMEN, and FAMOUS SHIPS"
The map features 300 years of New London history and interesting historical notes and landmarks such as Shaw Mansion, Nathan Hale School, Old Huguenot House, "Ye Ancientest Burial Grounde", U.S. Coast Guard Academy, Ye Olde Town Mill, and more.
Click here to see New London's 300th anniversary map.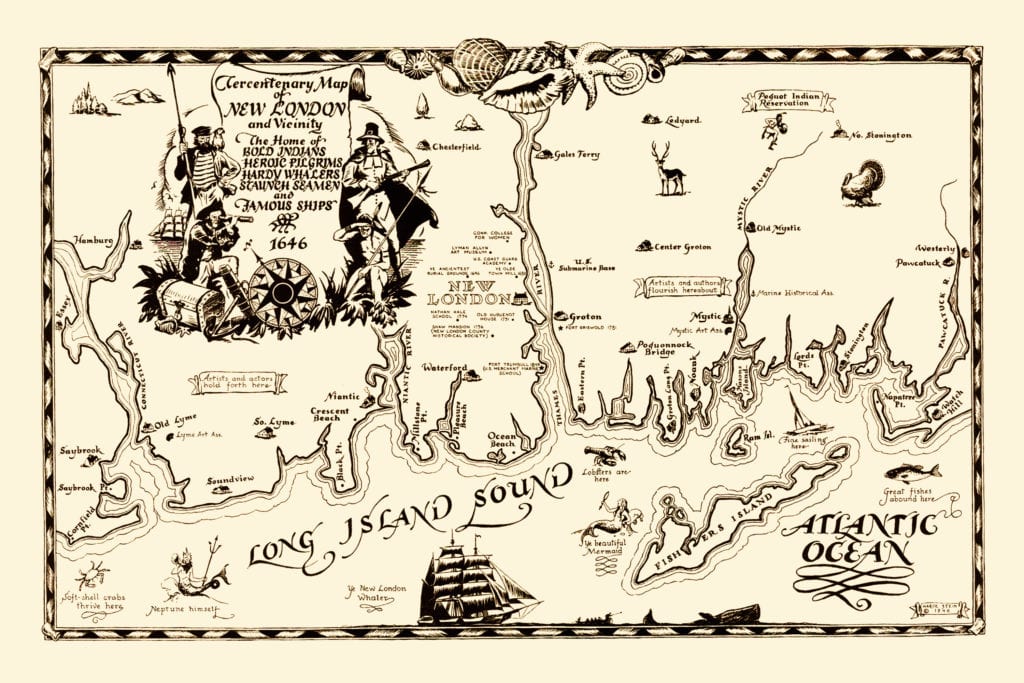 Reproductions of the restored map are available here.
This historical map of New London has been lovingly restored by the team at KNOWOL. Reproductions of the restored map are available on museum quality, archival paper to ensure that this piece of Connecticut history can be passed on to the next generation. Click here to get a copy of the map.