This old view of Elmira, New York was created sometime in the 1840's by Henry Walton, a 19th century American Folk Artist who grew up in Saratoga Springs, New York. He is believed to have been the son of Henry Walton (1768-1844), a wealthy landowner who played a significant role in the development of Saratoga Springs, NY in the early 1800's.
Walton's artistic ability was praised by the editor of the Ithaca Journal on May 23, 1838:
"Perhaps it is not generally known to the citizens of Ithaca and its vicinity, that we have residing in our village an artist, who though unpretending, is a proficient in the use of the pencil.

We speak of Mr. Henry Walton, who for several months past has been engaged in his professional business in this place, and we understand that if sufficient encouragement is given, he intends to locate himself permanently in this village. We feel proud to number among our citizens a young man whose talents as an artist bid fair to raise him to eminence.

We called on Mr. W[alton] a few days since, and were shown some of his pictures, and in our humble opinion, their design and execution displayed genius and skill worthy of liberal patronage. Among them were two portraits, of which the beauty of design was only equalled by the neatness and elegance of execution. We saw a number of miniatures, which were also equally well executed. We were shown several other pictures of different descriptions, drawn and pencilled in a superior taste and style.

In a word his specimens speak for themselves, and they plainly show that he is master of his profession, and we unhesitatingly say, that Mr. Walton ought to be patron ized by every lover and patron of the fine arts.

All who wish to get portrait, miniature, landscape or other paintings, executed in oil or water colors, can have it done in a superior style by Mr. Walton. His room is at Mr. R. P. Clark's East Hill, Ithaca."
Walton's hand colored drawing of Elmira, NY shows a view of the town looking West from a hill. The Chemung River can be seen surrounded by open fields, grazing cows, and a man, woman and child sitting on a hill overlooking Elmira under a beautifully colored sky.
Click here to see Elmira, New York in 1840.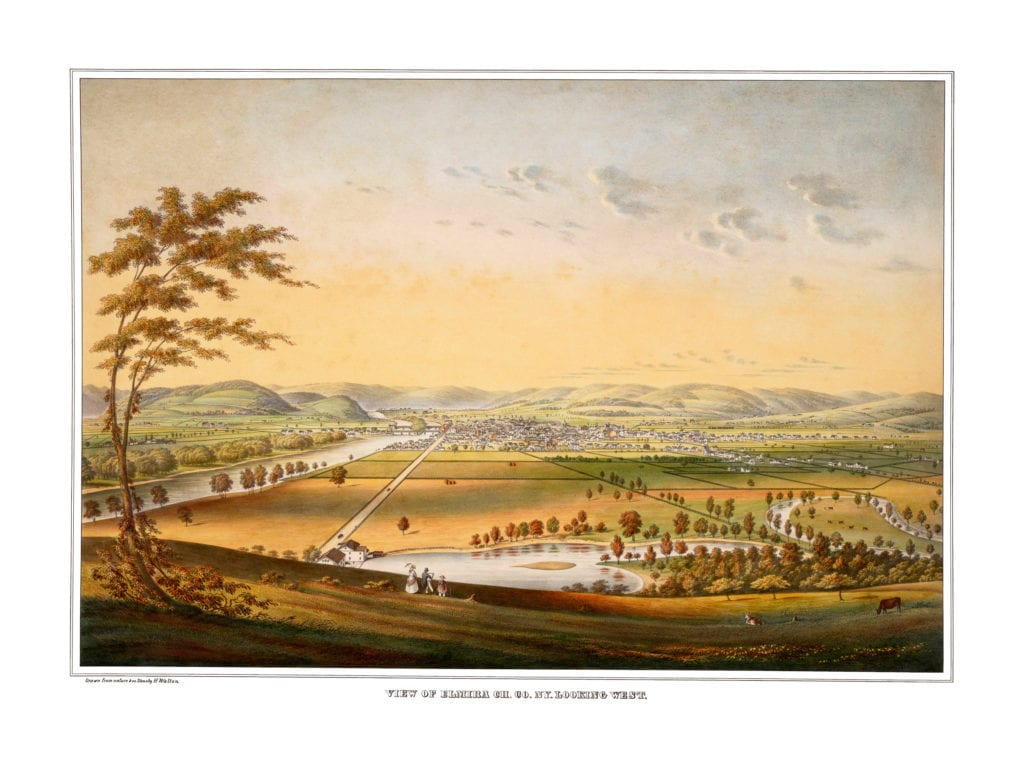 Reproductions of the restored map are available here.
This old map of Elmira, NY has been lovingly restored by the team at KNOWOL. Reproductions of the restored map are available on museum quality, archival paper to ensure that this piece of New York history can be passed on to the next generation. Click here to get a copy of the map.