This watercolor by William Wall (1792 – 1864) shows lower Manhattan across the East River as it looked from Brooklyn Strand 1825. The river scene is filled with sailboats, sailing ships, and a steamship.
Wall was born in Dublin in 1792 and arrived in New York in 1812. He was a well trained artist when he arrived and quickly became known for his watercolors of the Hudson River Valley and the surrounding area. Wall lived in America from 1812 to 1835 and again from 1856 to 1860. He returned to Ireland in 1860 and died in Dublin in 1864.
William Wall's watercolors were published as engravings by John Hill and his son John William Hill in the Hudson River Portfolio, one of the first publications to make Americans aware of the beauty of their own country.  A handwritten note by John Rubens Smith on this copy of the painting said,
"Walls style of painting before he came to me, in a year after I got him engaged to Megary – to paint the subjects for Hudson River Portfolio – in return he gratefully tried to ruin me in business – in gratitude. J.R.S."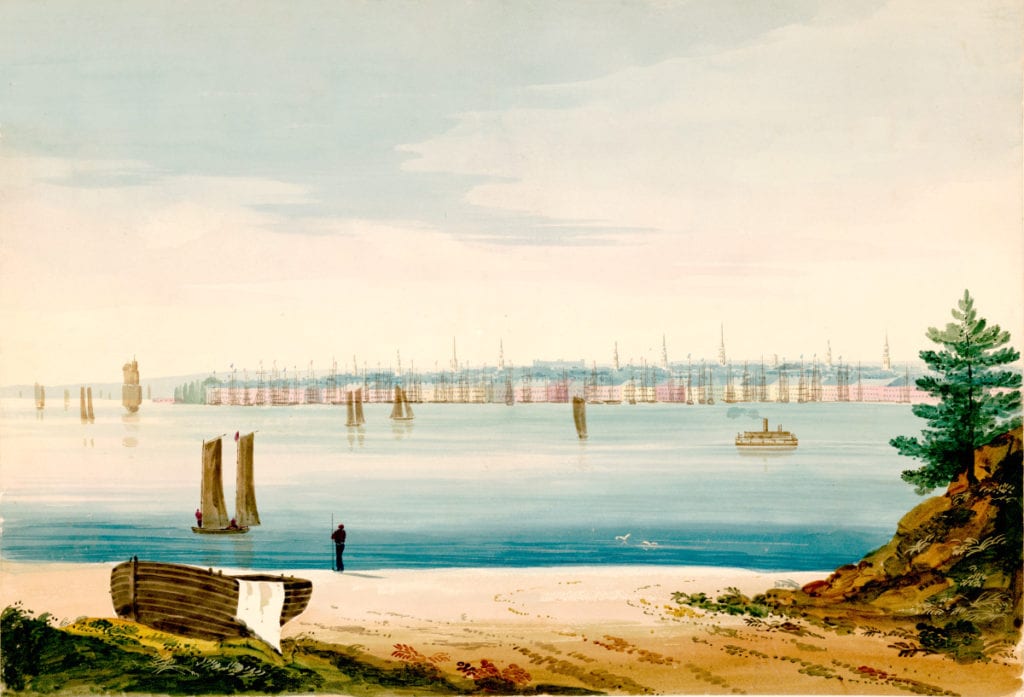 Wall's paintings were landscapes (and a few seascapes) that were straightforward representations of America's awe-inspiring vistas – neither romanticized nor idealized. He is an early member of the Hudson River School, and was a founding member of the National Academy of Design (New York).
The Amon Carter Museum (Fort Worth, Texas), the Honolulu Museum of Art, the Hudson River Museum (Yonkers, New York), the Metropolitan Museum of Art and the New-York Historical Society are among the public collections with paintings by William Guy Wall.
This digital copy of the painting comes from the Library of Congress and was digitally restored by KNOWOL. High resolution reproductions of the painting are available for sale here.