This map of Forest Hills, New York was originally published in 1908 by August R. Ohman. Ohman was a map publisher, draftsman, and engraver who worked out of 97-101 Warren Street in New York City. He created this map of Forest Hills for the Cord Meyer Development Company, a family owned real estate firm that played a major role in developing Forest Hills in the early 20th century.
In 1906, the Cord Meyer Development Company, headed by Brooklyn attorney Cord Meyer, bought land which was then made up of six farms (those of Ascan Bakus, Casper Joost-Springsteen, Horatio N. Squire, Abram V. S. Lott, Sarah V. Bolmer, and James Van Siclen). The company then renamed the area "Forest Hills", after Forest Park.
Forest Hills was modeled after garden communities of England, with its own inn, garage, and post office. It also included narrow, winding roads to limit through traffic. As a result, there are many Tudor-style homes in Forest Hills. The houses were mostly constructed between 1910 and 1917.
This historic map of Forest Hills has been restored by KNOWOL. Reproductions of the map are available here.
Map of Forest Hills, NY in 1908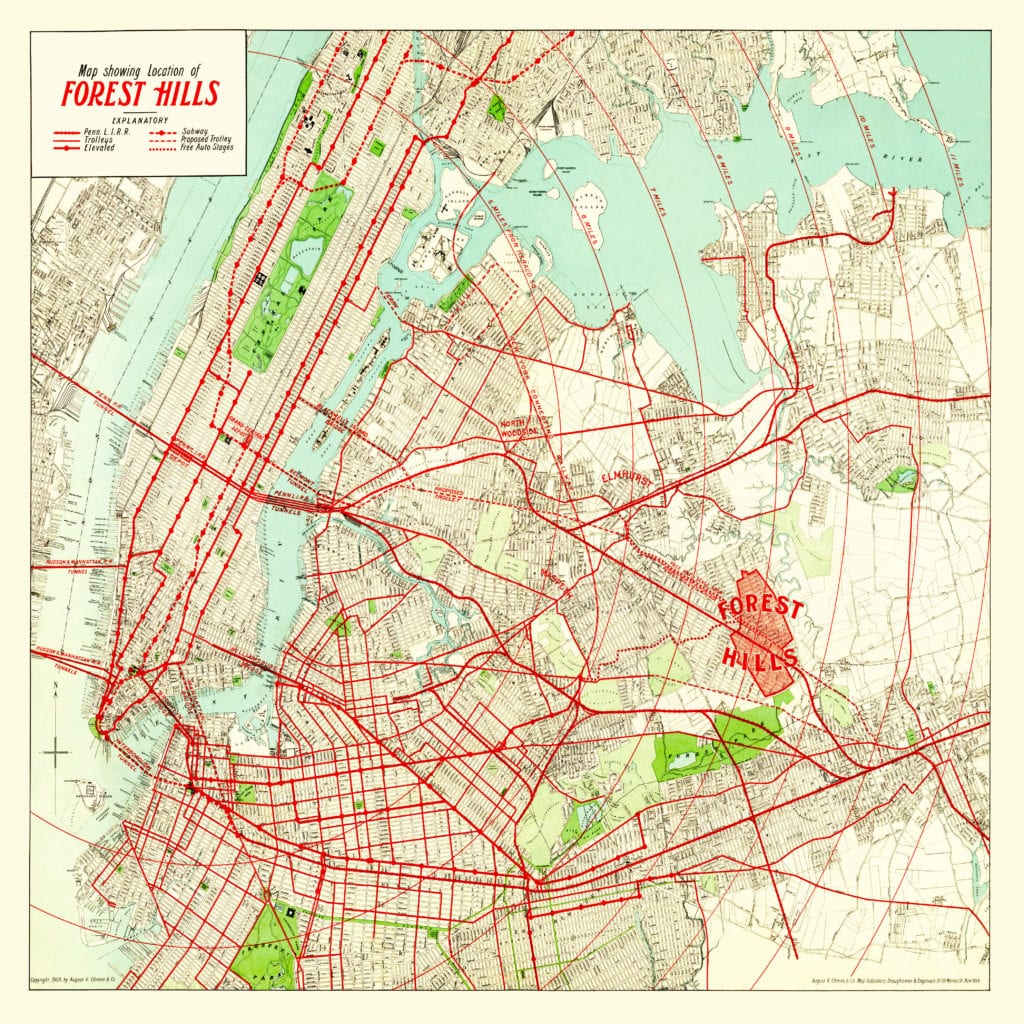 The red circles show the distance of different parts of Forest Hills from Herald Square. The purpose of the map was to promote Forest Hills based on its proximity to Manhattan and the numerous public transportation options available. The red lines on the map mark bridges, trains, tunnels, a proposed trolley line, and the route of a free bus from Forest Hills to Elmhurst.
This historic map of Forest Hills will make an attractive addition to your office, library, or den and can even be used to teach children the geography and history of the area. When you're done exploring, click here to get your copy.