This map of Meriden, Connecticut was created in 1875 by C.H. Vogt, a prominent 19th century map maker. The map shows a bird's eye view of the Silver City as it looked in the 19th century, including street names and old landmarks.
Meriden became a major manufacturing center despite having few of the natural advantages considered necessary for industry. A book from 1906 attributed Meriden's success "wholly to the genius of the people; they were determined to succeed and they did."
A directory of Connecticut and Rhode Island from 1819 had similar praise for Meriden residents. Its author wrote:
"A spirit of enterprise and activity in business characterizes the inhabitants of this town. Various manufactures and mechanical employments are carried on but those of tin ware and buttons are the most important…
Landmarks on the map include St. Rose Catholic Church, Parker Brothers Gun Works, Meriden Brittania Company, Bradley & Hubbard Manufacturing, Wilcox Silver Plating, Meriden Screw Company, Meriden Silver Plate Company, The U.S. Screw Company, Breckenridge Foundry, Meriden Fire Insurance Company, Morse Insurance, and more.
This historic map of Meriden, CT has been restored by KNOWOL. Reproductions of the map are available here.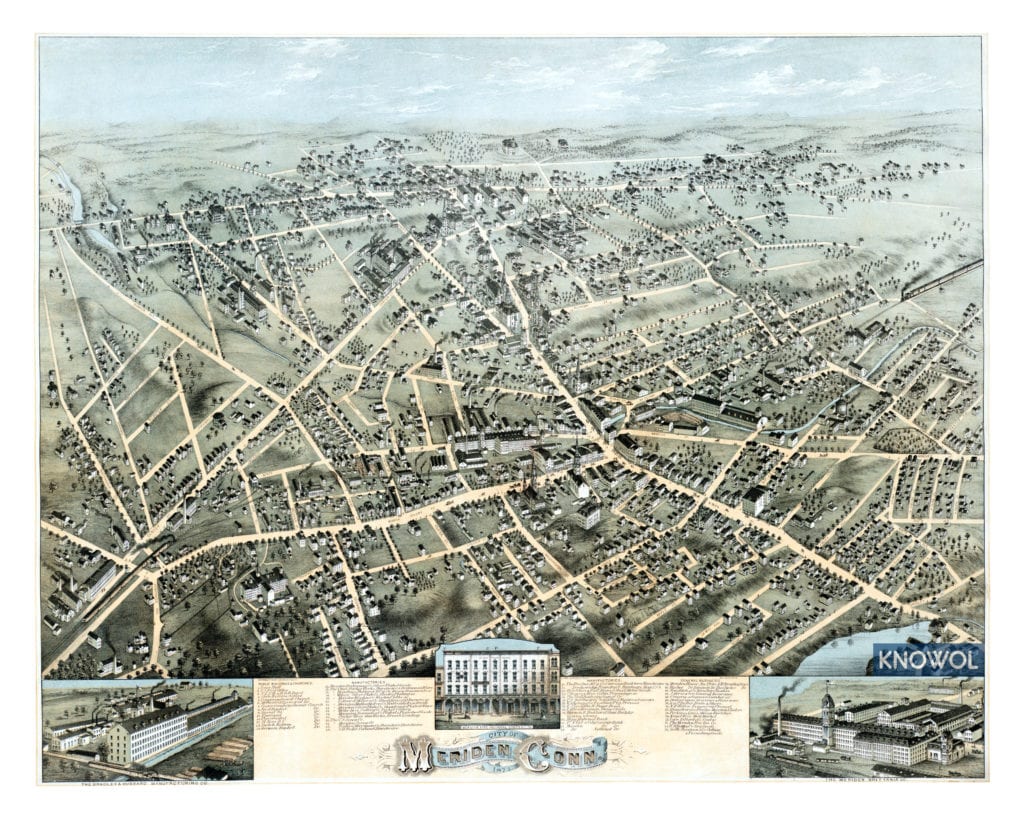 Winston Churchill's great-great-great grandfather, Timothy Jerome, moved to what is now Meriden after receiving a royal grant giving him a monopoly on salt-making in the area. He is buried in Meriden's oldest cemetery, "Burying Ground 1720", which was then known as "Buckwheat Hill". The cemetery overlooks what was once his estate.
This map of Meriden will make an attractive addition to your office, library, or den and can even be used to teach children the geography and history of the area. When you're done exploring, click here to get your copy.