This historic map of Martha's Vineyard was created in 1954 and shows a general overview of the island surrounded by beautiful drawings of the colony in the 50's. The images include maritime scenes, churches, and caricatures of the Anemoi, Greek gods who were each ascribed a cardinal direction from which their winds came.
The map is surrounded by the words of Bartholomew Gosnold from his voyage to Martha's Vineyard in 1602. Gosnold was an English lawyer, explorer, and privateer instrumental in founding the London Company and the Jamestown Colony. He led the first recorded European expedition to Cape Cod and said of Martha's Vineyard:
"We stood a while like men ravished at the beauty and delicacy of this sweet soil; for besides diverse clear lakes of fresh water we saw meadows very large and hedged with stately groves – There was such an incredible score of vines we could not go for treading on them. This is the goodliest land we ever saw for it is replenished with fair fields and in them fragrant flowers." – Gosnold, 1602
This historic map of Martha's Vineyard has been restored by KNOWOL. Reproductions of the map are available here.
Historic Map of Martha's Vineyard, 1954.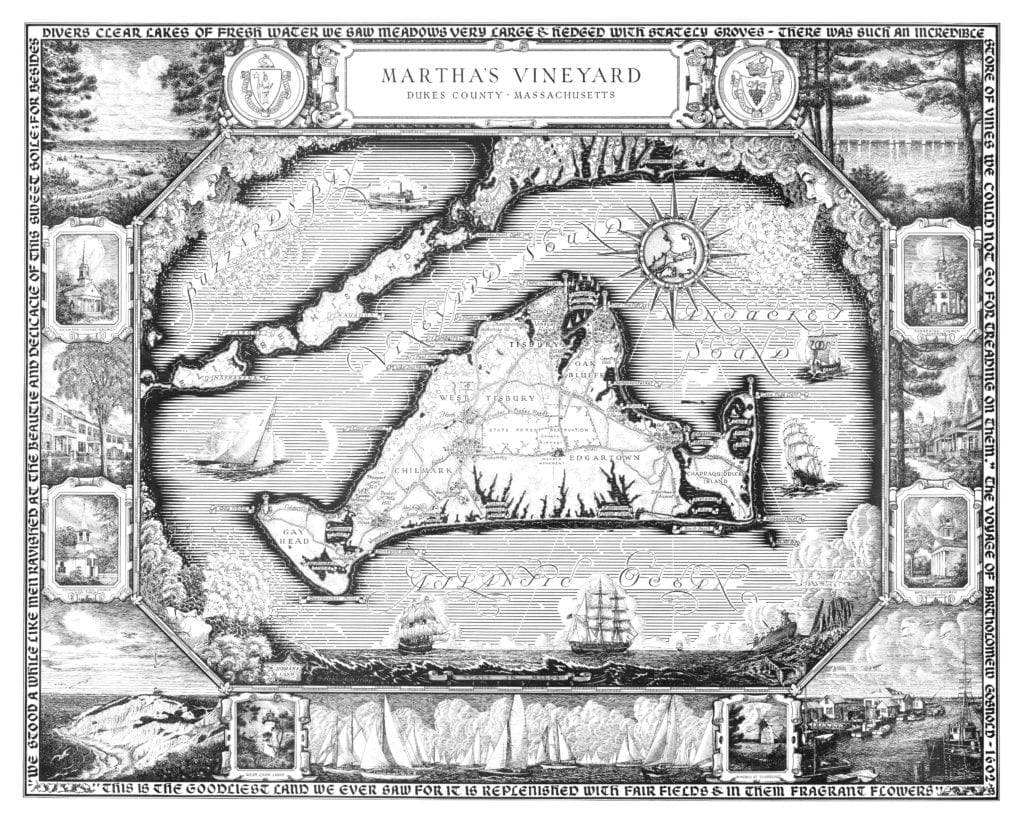 This beautiful map of Martha's Vineyard makes an attractive addition to your office, library, or den, and can even be used to teach children the geography and history of the area. When you're done exploring, click here to get your copy of the map.