This old map of Milton, New Hampshire was published in 1888 by George E. Norris and the Burleigh Lithography Company. Norris and Burleigh were two of the most prolific map publishers of the 19th century, and spent a majority of their careers illustrating bird's eye views of American towns.
The early history of Milton, NH is synonymous with that of Rochester, New Hampshire. Milton was formed as part of Rochester and was known as its Third or Northeast Parish until June 11, 1802, when Milton became a separate town.
Due to the destruction of the records by fire, it has been somewhat difficult to determine just when, where, or by whom the first permanent settlement was made in the town. It is, however, very certain that it was in the southern part and probably as early as 1760, or very near that time.
This map shows a bird's eye view of Milton, NH as it looked at the end of the 19th century. Notable landmarks on the map include Milton Manufacturing Company, Looney & Downs General Merchandise, Riverside House, Institute Building, and the White Mountains.
Click here to see Milton, New Hampshire in 1888.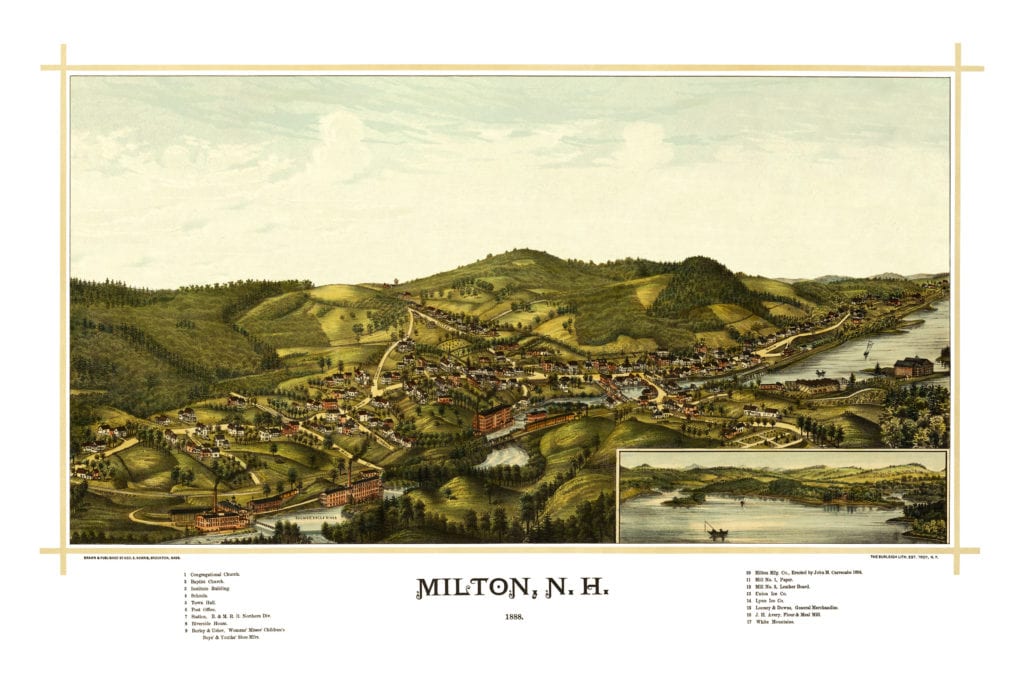 Reproductions of the restored map are available here.
This old map of Milton, NH has been lovingly restored by the team at KNOWOL. Reproductions of the restored map are available on museum quality, archival paper to ensure that this piece of Milton history can be passed on to the next generation. Click here to get a copy of the map.