This historic map of New York City was first published in 1870 by Nathaniel Currier & James Ives. Currier and Ives were the most popular printmakers of the 19th century, running their New York City firm from 1834 to 1907.
The map shows a bustling New York Harbor filled with merchant ships and passenger ferries, including the Staten Island and Wall Street Ferries. The Brooklyn Bridge can be seen despite construction not being completed until 1883, as it was common to include planned projects so that the view would remain current for years.
Other landmarks on the map include Trinity Church, St. Paul's Church, Bowling Green, Delamater Iron Works, Corn Exchange, Stewart's Building, U.S. Custom House, Battery, Castle Garden, Williamsburg, Beekman Street Shot Tower, U.S. Hotel, and more. Jersey City, Hoboken, Greenpoint, & Hunter's Point (LIC) can be seen in the background.
This historic view of NYC was restored by KNOWOL. Reproductions of the restored map are available here.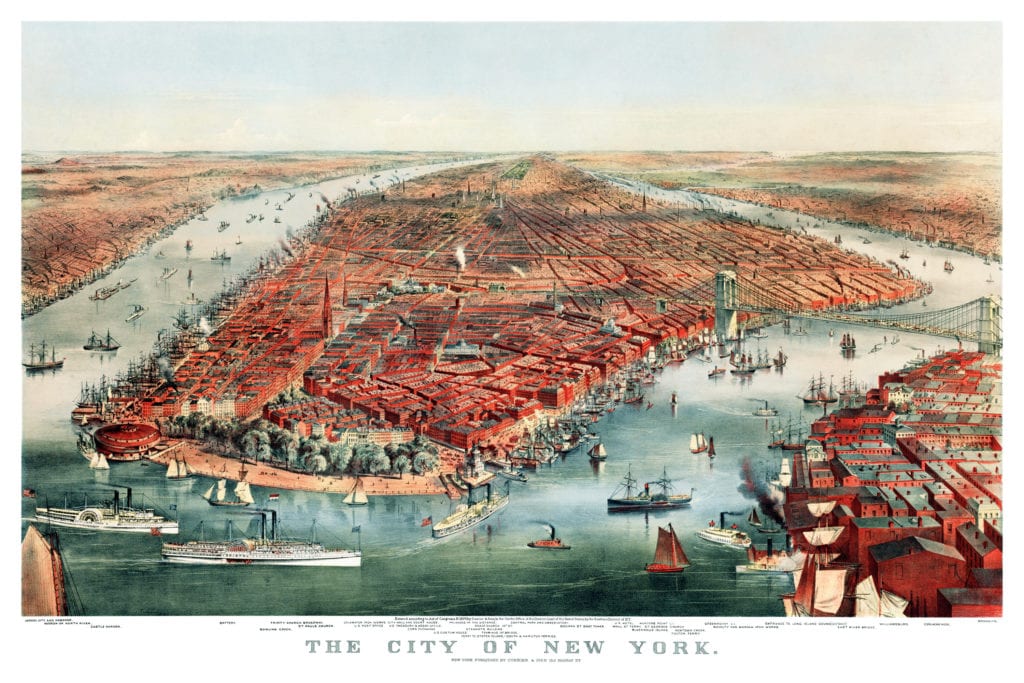 This historic view of New York City will make an attractive addition to your office, library, or den, and can even be used to teach children the geography and history of the area. When you're done exploring, click here to get your copy.