This vintage map of Wyoming was created in 1938 by Tom Carrigen. Carrigen served in World War I and then returned to Wyoming where he built a bountiful career photographing the state and recording its history.
He updated the map in 1953 toward the tail end of his life, and it is truly a masterpiece. Featuring incredibly entertaining illustrations of both the history of Wyoming and it's people, the map was originally meant to entice visitors to the state, and is now a historic gem for Wyomingites.
You can explore the full map by clicking the images below. Reproductions of the restored map are available here. This vintage map of Wyoming has been lovingly restored and reproduced by KNOWOL.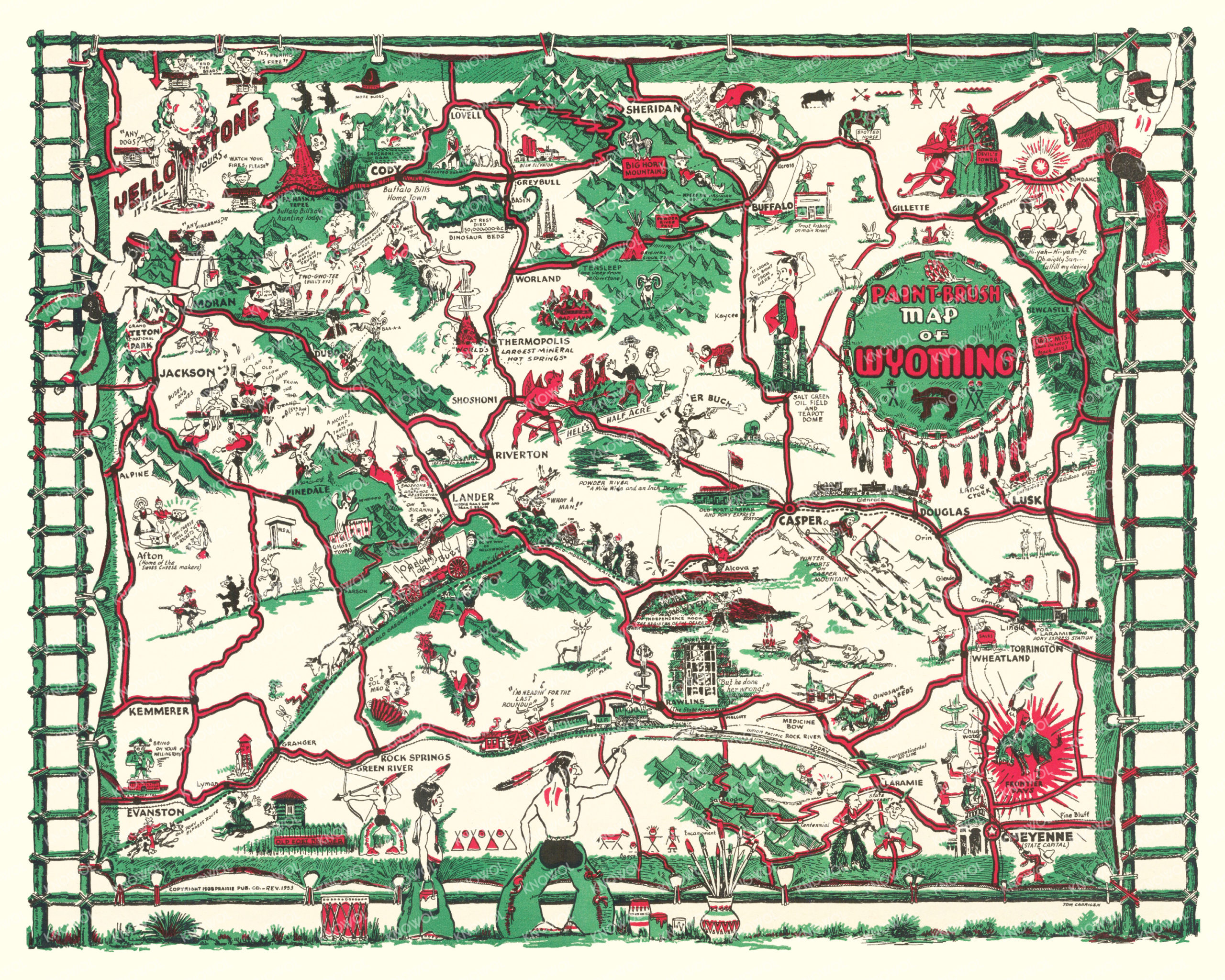 Ancient tribal drums, echoing from Wyoming's historic past, beat a colorful welcome to Wyoming – the land of contrasts. The artist intended for this map to recall the picturesque days of life when Indians alone roamed this great rectangular plateau of the Rocky Mountain uplift, broken by foothills and mountain ranges.
Jackson, Shoshoni, Pinedale, Afton, Lander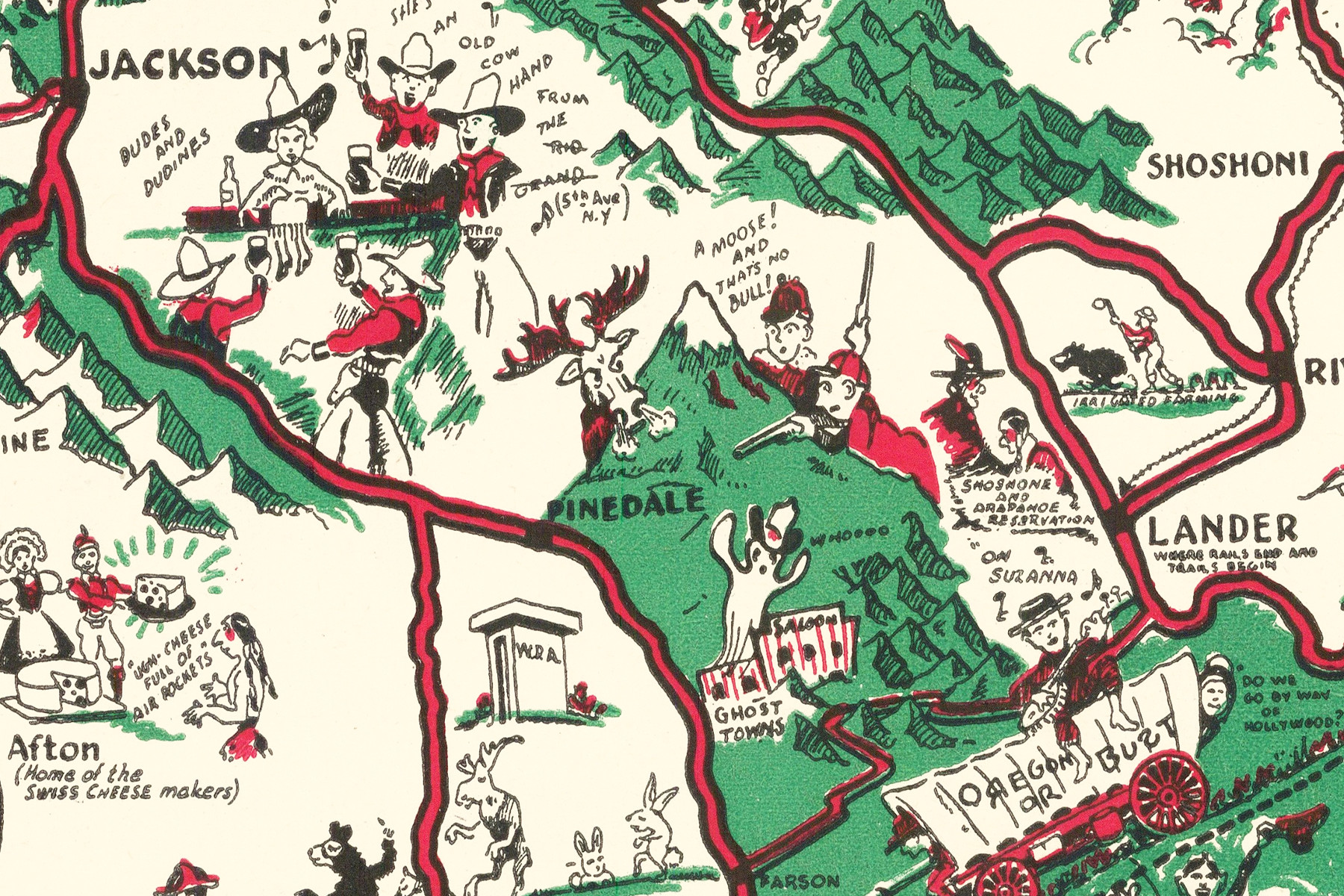 An aura of this nostalgic past still clings to the State, though its way of life is now modern in every respect. Pioneer trails, hallowed by the greatest human migration of all time, have given way to smooth ribbons of oiled pavement, over which modern Wyoming visitors can travel to see two of the nation's greatest national parks, America's biggest glaciers, the world's largest mineral hot spring, and any number of great mountain ranges which form the very backbone of the hemisphere.
"Where the deer and the antelope play"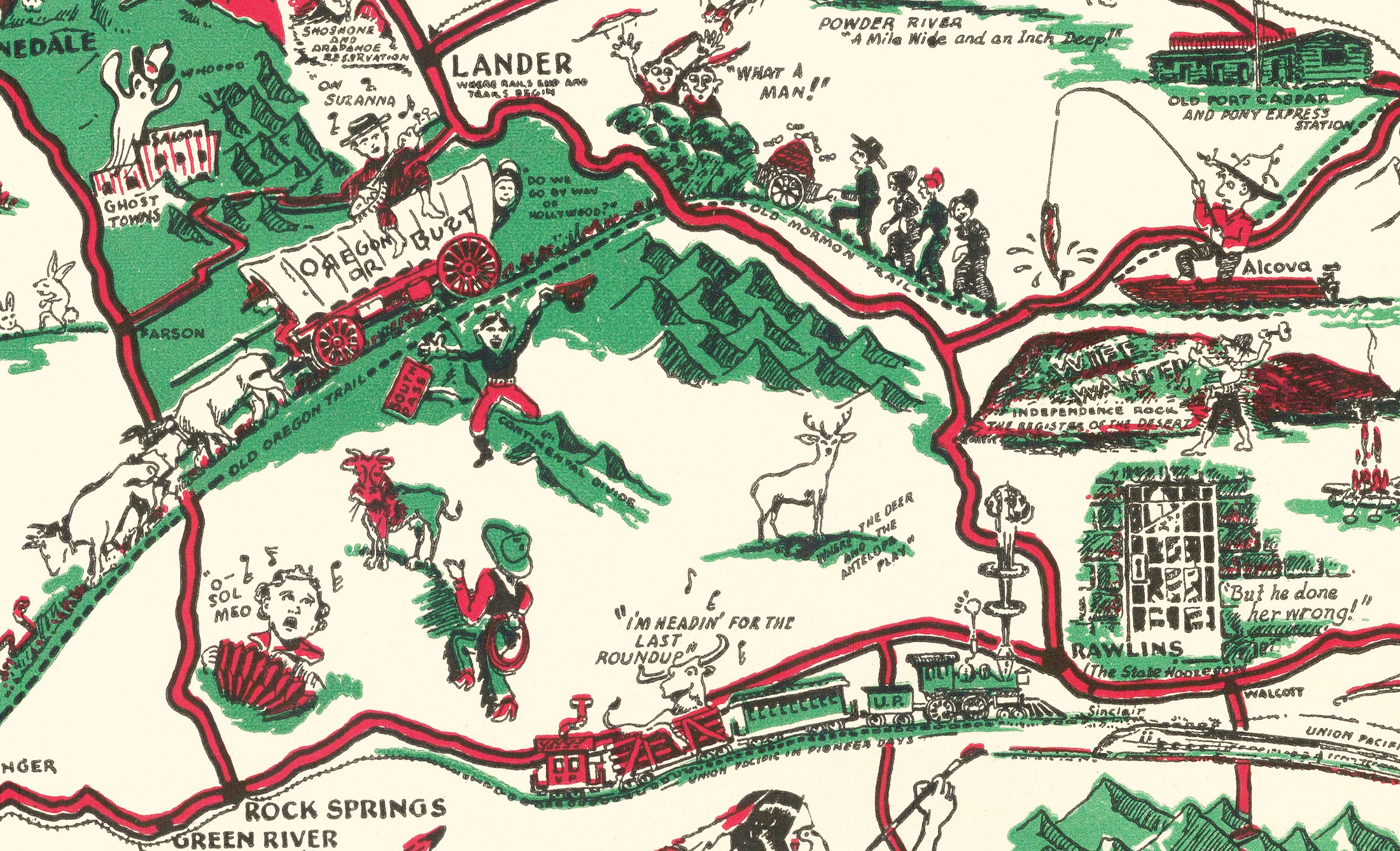 The deep ruts carved by the "blood, sweat and tears" of early Americans and their Conestoga wagons as they traveled the Oregon trail can still be seen. Independence Rock, on which thousands of emigrants carved their names, rises out of the desert like a monument to the Past.
"Casper: Winter Sports on Casper Mountain"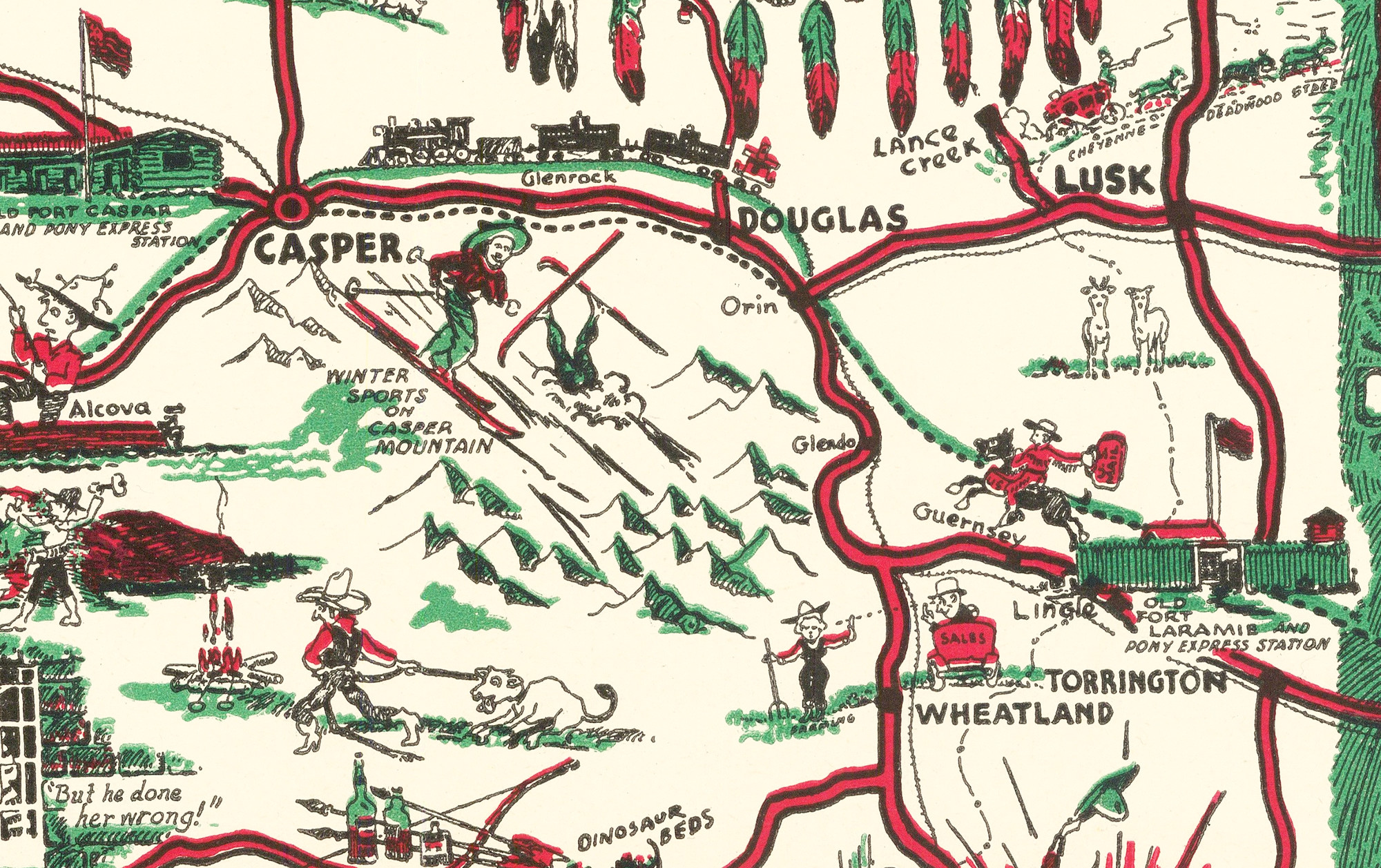 The splash of trout in the mountain streams, the silent feet of elk and deer in the pine-hemmed parks, and the fleet antelope bounding across the grassy prairies, send their combined invitation to the nature lover and the sportsman alike.
Big Horn Mountains and the Heart of Dude Ranch Country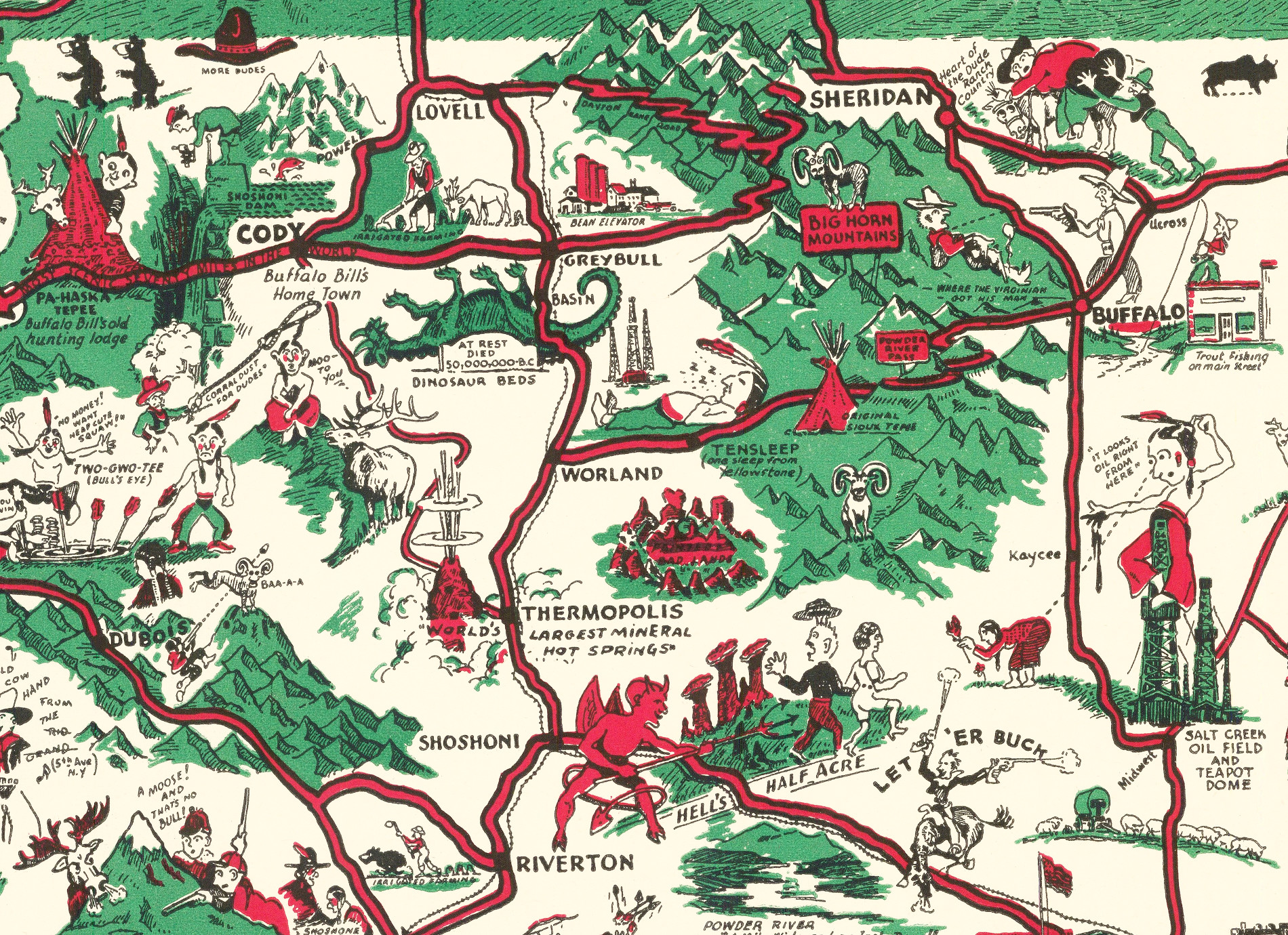 This beautifully restored map of Wyoming will make an attractive addition to your office, library, or den and can even be used to teach children the geography and history of the area. When you're done exploring, click here to get your copy of the restored map.