Lake Compounce, located in Bristol and Southington, CT, is America's oldest continuously operating amusement park. The park's roots trace back to 1846, when Gad Norton hired a scientist to perform an experiment using explosives near the mountain that is now part of Lake Compounce.
The experiment failed, but thousands of people showed up for the event, giving Norton the idea to open an amusement park on the land. He began by creating a path around the lake, building a gazebo near the lake for bands to perform, setting up picnic tables, building a few rides, and allowing the public to swim and boat in the lake.
The following images depict Lake Compounce in the 1950's, revealing how one of America's first amusement parks got its start.
Entrance to Lake Compounce, Bristol, CT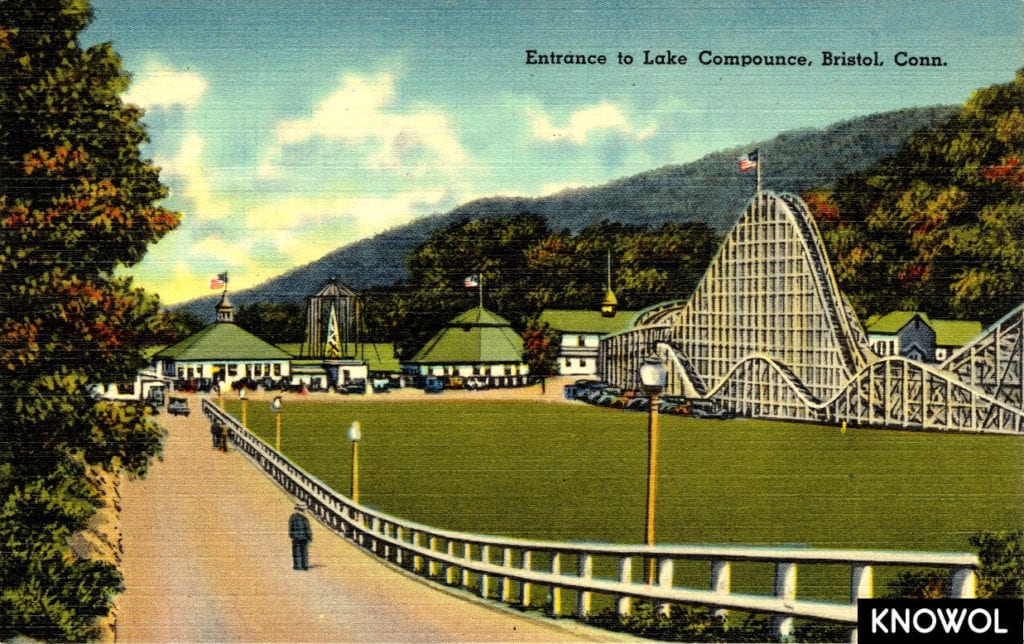 The first permanent building at Lake Compounce was a casino, built in 1895. The casino featured a restaurant downstairs and a ballroom upstairs. The ballroom was a popular nighttime destination for local residents. Guests would often spend the day enjoying the park before enjoying dinner and dancing in the ballroom.
The wooden roller coaster in this picture is the Wildcat, still in operation today. The coaster was constructed in 1927, and is one of the world's oldest operating roller coasters.
Lake Compounce Midway, Bristol, Conn.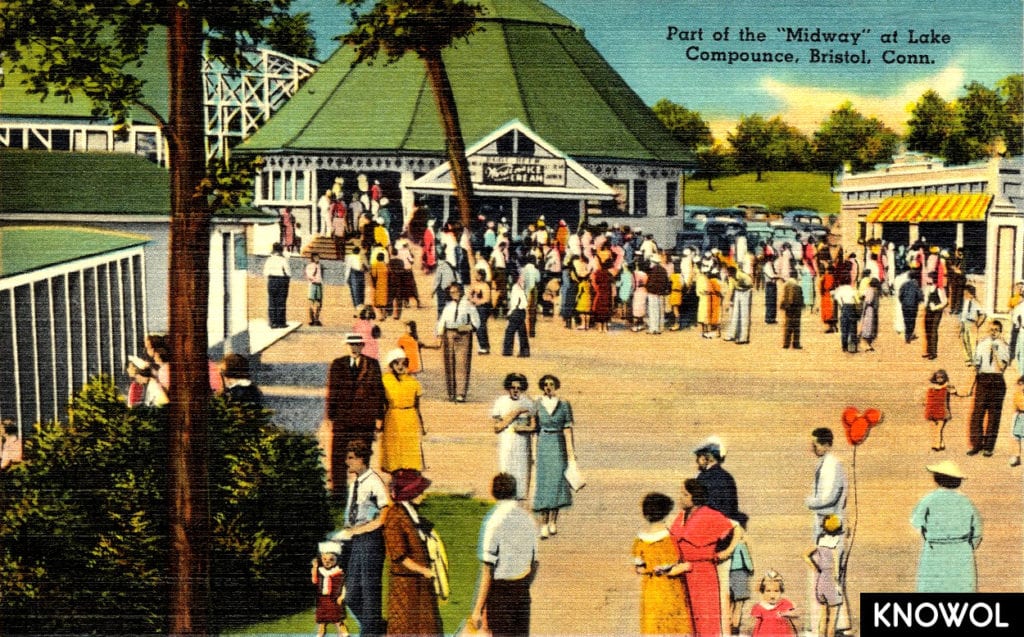 In the 1930's, the casino ballroom was expanded to include a dance floors with no walls, so guests could dance under the stars, earning it the name "the Starlight Ballroom". The all time attendance record for the Starlight Ballroom was set in 1941, when 5,000 people showed up to see a performance by an upcoming, twenty-five year old Frank Sinatra.
Bathing Beach, Lake Compounce, Bristol, CT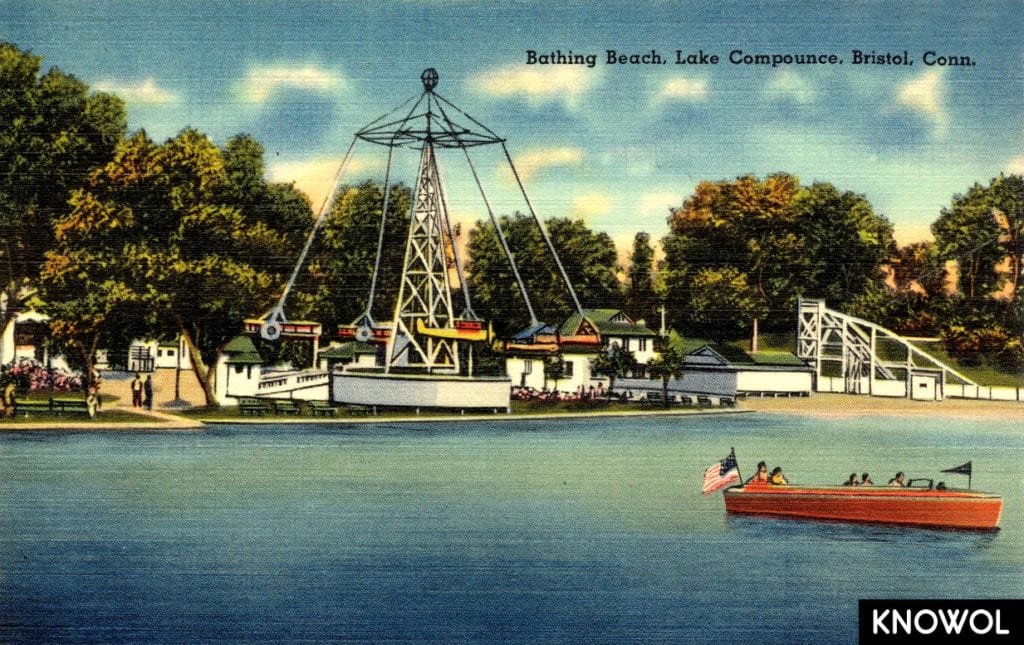 Lake Compounce prospered during the 1940's and 50's as a picnic area and amusement park, and remains a popular attraction today. This picture shows the lakefront as it looked in the 1950's. Today this area is home to a water park with a variety of water slides and other attractions.




Bathing Beach, Lake Compounce, Bristol, Conn.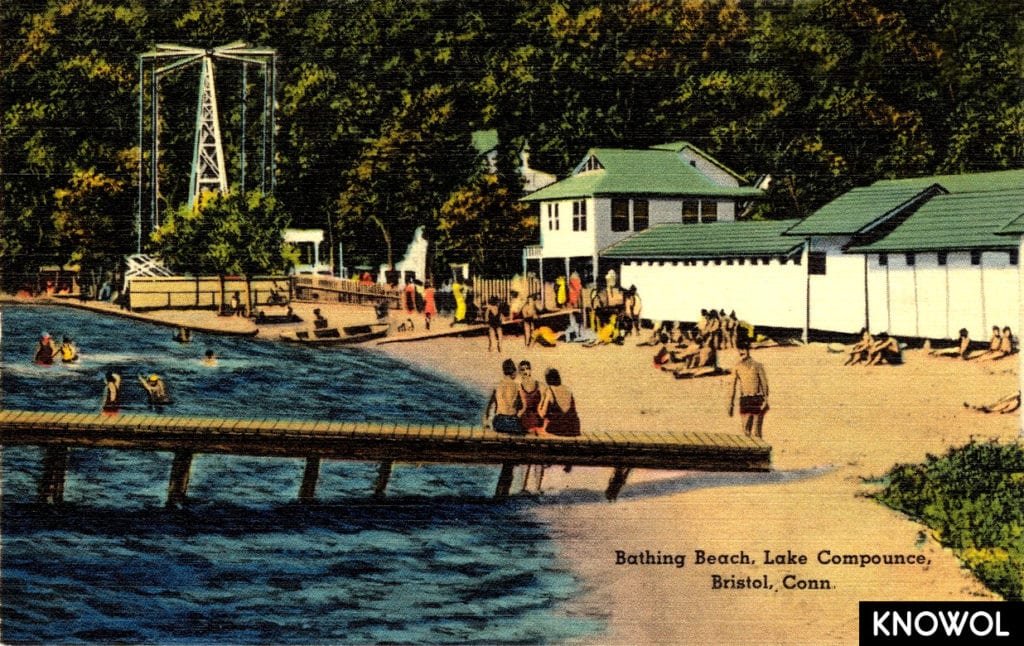 Many of the earliest amusement parks in the United States were established as picnic areas around lakes, giving guests a place to congregate, swim, and eat with friends and family.
The Fleet ready for "Take Off" at Lake Compounce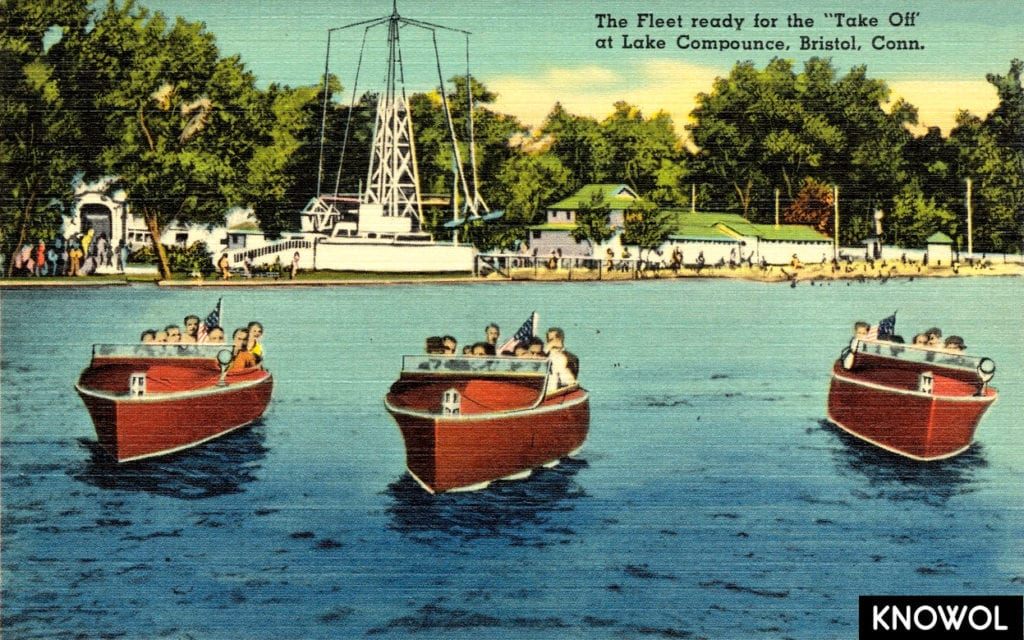 Click here to see more old pictures of Lake Compounce.
Share with your friends using the buttons below!