This historic map of Watertown, Massachusetts was created in 1930 by Mary Hotz, a senior at Watertown High School. Students in the senior art class were tasked with creating a historical map to celebrate the town's 300th anniversary, and this map was the winner. Mary beautifully illustrated scenes from Watertown's history, skillfully connecting the viewer with the town's past.
Landmarks on the map include Aetna Mills, Governor Gore's Estate, Soldier's Monument in Saltonstall Park, Watertown Senior High, Strawberry Hill, Richardson Tavern, Sphinx at Mount Auburn, Coolidge Homestead, Dorchester Fields, Union Market Stock Yard, and more. Mary attended art school in Boston after high school, but never practiced art professionally. She passed away in 2006 with her beloved map still hanging on her wall.
This historic map of Watertown, MA has been restored by KNOWOL. Reproductions of the restored map are available here.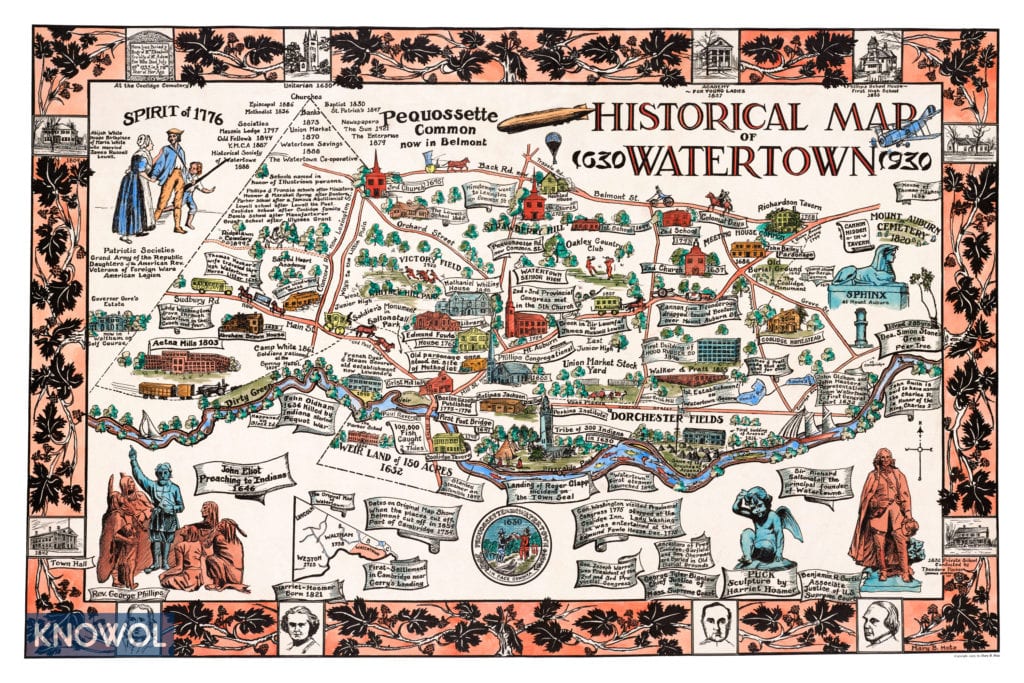 This vintage map of Watertown makes an attractive addition to your office, library, or den, and can even be used to teach children the geography and history of the area. When you're done exploring, click here to get your copy of the restored map.