This map of Winchester, Virginia was created by William A. Ryan in 1926. Ryan was a local artist who created the map for that year's Shenandoah Apple Blossom Festival. The map came with a cover that read,
"Stranger! The ancient city of Winchester in Virginia bids you welcome! to the Shenandoah Apple Blossom Festival."
Historic Winchester landmarks on the map include Fort Loudon, Sheridan's Civil War Headquarters, Virginia Barrel Company, Old Taylor Hotel, Empire Theatre, Shenandoah Valley Academy, Winchester Memorial Hospital, Virginia Woolen Company, Winchester Steam Laundry, George Washington Hotel, and Pennsylvania Railroad Station.
The map also features an inlaid drawing of Opeqon Lake Park, where camping sites were rented for 50 cents per day. The map also lists parking garages in the area, which was notable for a map from this period. The roads were newly filled with Ford Model T's, generally regarded as the first affordable automobile that opened auto travel to America's middle class. The car was a powerful symbol of a rising middle class, and Winchester residents would have this map with them as they drove their Model T's around town.
This historic map of Winchester, VA has been restored by KNOWOL. Reproductions of the map are available here.
Bird's Eye View of Winchester, VA in 1926.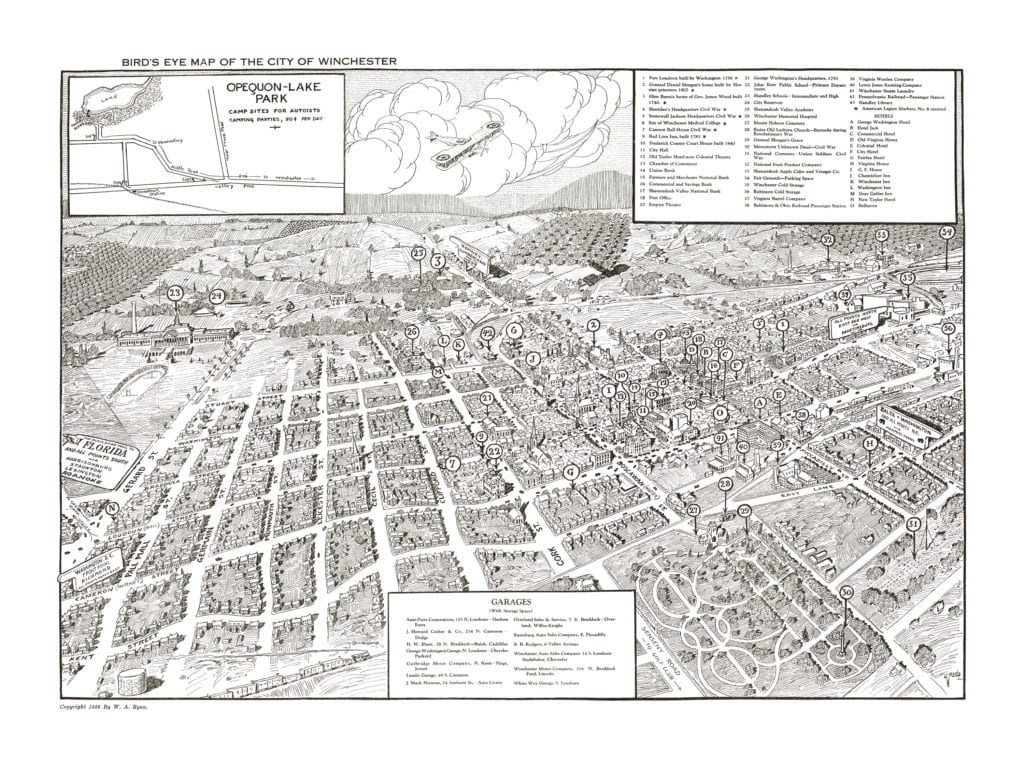 This historic map of Winchester will make an attractive addition to your office, library, or den and can even be used to teach children the geography and history of the area. When you're done exploring, click here to get your copy.