This old map of Cambridgeboro, Pennsylvania shows the area that is now known as Cambridge Springs. The map was first published in 1895 by Thaddeus Mortimer Fowler and James B. Moyer. T.M. Fowler was a prolific publisher of panoramic maps in the 19th century and Moyer was an artist who frequently collaborated with Fowler.
The village of Cambridge was settled in 1822 and was incorporated into the borough of Cambridgeboro on April 3, 1866. In the late 19th century, Cambridgeboro became well known for its mineral springs, and the popularity of these springs led to the renaming of the borough to Cambridge Springs on April 1, 1897.
This historical map shows a bird's eye view of Cambridge Springs, PA as it looked at the end of the 19th century. Landmarks on the map include the Petticord Mineral Springs, Gray Springs, Beach Mineral Springs, Hotel Riverside, National Mineral Table Water Company, Cambridge Cider Mill and a proposed bridge.
Click here to see Cambridgeboro, PA in 1895.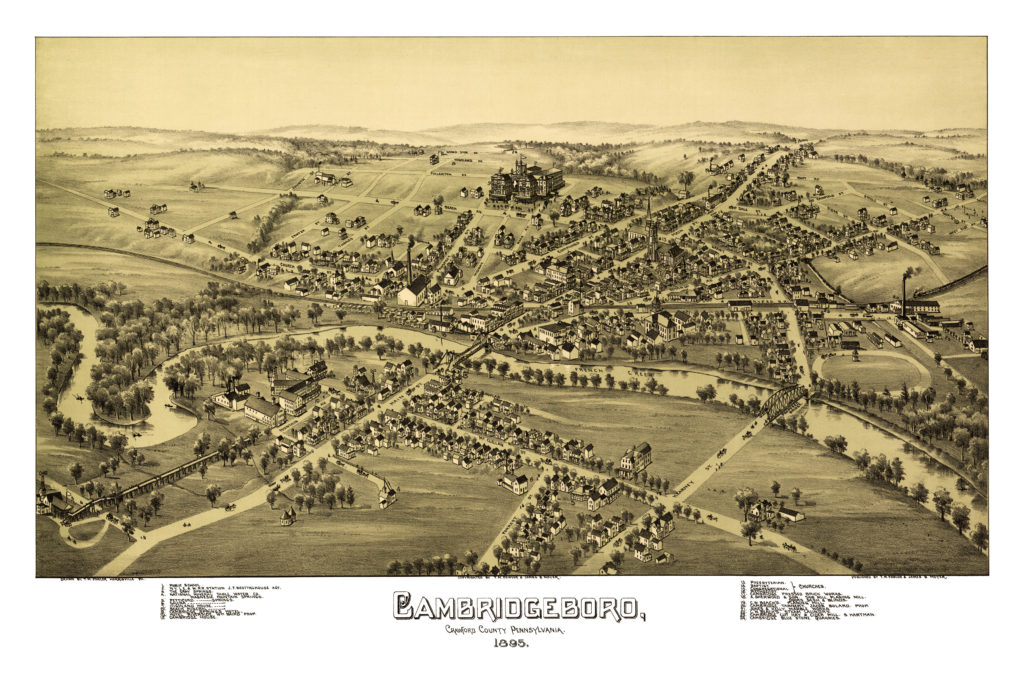 This old map of Cambridgeboro, PA has been lovingly restored by the team at KNOWOL. Reproductions of the restored map are available on museum quality, archival paper to ensure that this piece of Cambridge Springs history can be passed on to the next generation.
Click here to get a copy of the map.