This old bird's eye view of Golden City, Colorado was published between 1865 – 1873 by A.E. Mathews (1831-1874). Alfred Edward Mathews was an artist who began his career creating detailed battle scene while serving as a soldier in the 31st Ohio Volunteer Regiment during the Civil War.
After his military service, Mathews traveled the Western United States and produced some of the earliest landscape drawings of California, Colorado, Montana and Nebraska. This view of Golden City is one of the earliest and rarest of the area, and its detail provides important historical documentation of the town's development.
The map shows a bird's eye view of Golden City, CO as it looked toward the end of the 19th century. The image was drawn looking West, so you can see Clear Creek running through the center of town with what are now known as Mt. Galbraith Park and Windy Saddle Park on each side.
Click here to see Golden City, Colorado in 1870.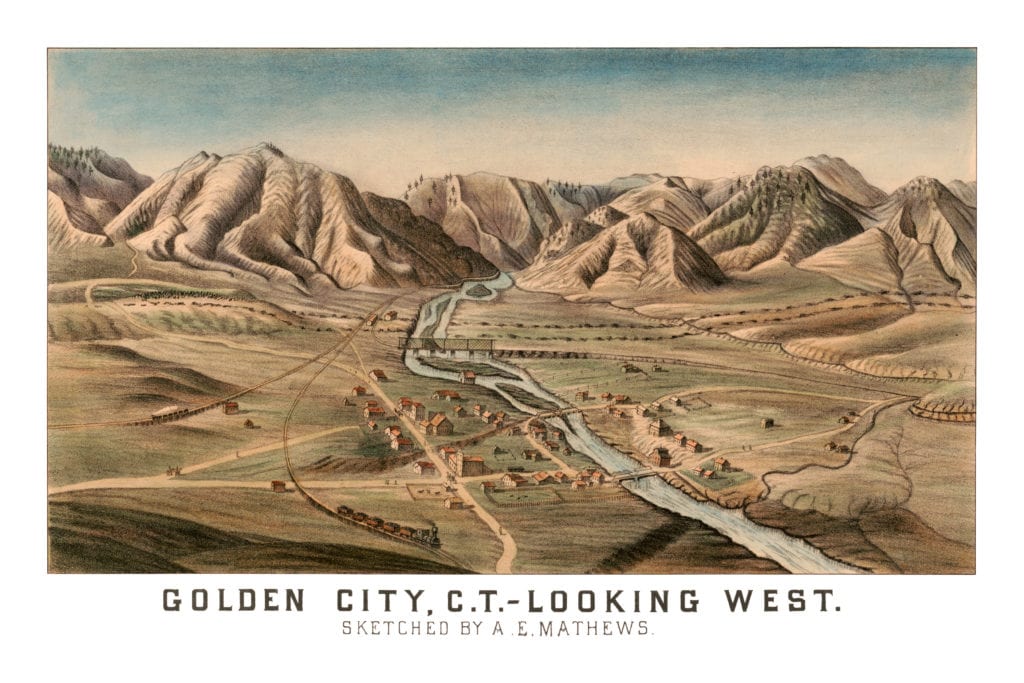 Reproductions of the restored print available here.
This old map of Golden City, Colorado has been lovingly restored by the team at KNOWOL. Reproductions of the restored map are available on museum quality, archival paper to ensure that this piece of Golden City history can be passed on to the next generation. Click here to get a copy of the map.