This map of Ludington, Michigan was created in 1880 by J.J. Stoner, a prominent 19th century map maker. The map shows a bird's eye view of Ludington as it used to be, including street names and old landmarks.
The city was named after industrialist James Ludington. On October 11, 1854, Ludington loaned George W. Ford money for a sawmill operation in the area. Ford defaulted on the loan in 1859, so Ludington took over the sawmill business, helping to fuel the area's growth. Ludington incorporated as a city in 1873, and became the county seat the same year.
Old Ludington landmarks on the map include Marshall House, Excelsior Hotel, Ennis House, Traveler's Home, Saw Mills, Farrell's Sash & Door Factory, Foster's Shingle Factory, Ludington Iron Works, Ludington Boiler Works, Railroad Depots, Pere Marquette Lumber Company, and more.
This historic map of Ludington, MI has been restored by KNOWOL. Reproductions of the map are available here.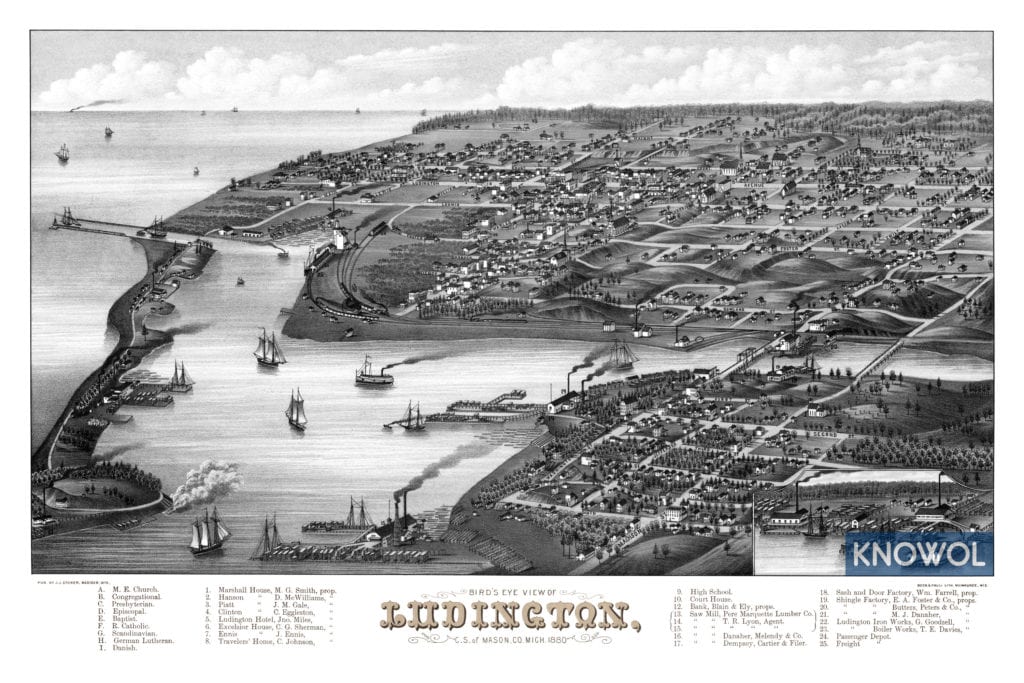 This map of Ludington will make an attractive addition to your office, library, or den and can even be used to teach children the geography and history of the area. When you're done exploring, click here to get your copy.